November 17, 2017
Case Study: Sore throat and bruises
Answers
The differential diagnosis for thrombocytopenia is broad. In the setting of infection, disseminated intravascular coagulation (DIC) should always be investigated but is fortunately rare. See the chart below for other causes of thrombocytopenia. This patient was diagnosed with thrombotic thrombocytopenic purpura (TTP). See the highlighted area of the chart.
If TTP is suspected, one should order an ADAMTS13 activity level. This is obviously a send-out lab, and the patient's came back undetectable at <5% (normal >66%). Severe deficiency of ADAMTS13 activity (<10%) may be acquired or congenital and is relatively specific for TTP. Severe ADAMTS13 deficiency is observed in approximately two-thirds of patients with idiopathic TTP.
Discussion
TTP is a rare but potentially life-threatening condition that should be suspected whenever there is evidence of thrombocytopenia associated with microangiopathic hemolytic anemia (MAHA). The classic pentad includes fever, renal insufficiency, low platelets, hemolysis, and CNS involvement. Gastrointestinal symptoms such as abdominal pain, vomiting, and diarrhea are also common. Coagulation studies should be normal. If they are not, DIC should be suspected or at least considered.
TTP is often caused or triggered by an underlying medical condition or medication. In this patient, the trigger appears to have been a pharyngeal infection. Other triggers include pregnancy, autoimmune diseases, and a number of medications. See the chart for more information on the triggers, clinical presentation, lab abnormalities, and complications of TTP.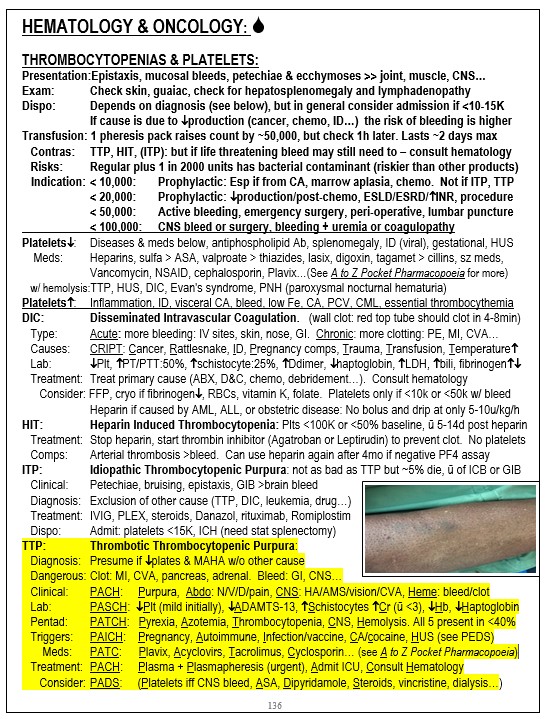 Treatment of TTP involves treating or avoiding any triggering conditions, as well as urgent plasma transfusion followed by plasmapheresis in an ICU setting in consultation with a hematologist. Platelets transfusion should generally be avoided, because it has the potential to make matters worse. Platelets are only typically given if there is life-threatening bleeding. Other treatments for TTP may include platelet inhibitors such as aspirin, steroids, and dialysis if renal function is severely affected.
Brady Pregerson, MD, is an emergency physician at Cedars-Sinai Medical Center in Los Angeles and at Tri-City Medical Center in Oceanside, California.
Reference
Pregerson B. Emergency Medicine1-Minute Consult Pocketbook. 5th ed. EMresource.org; 2017.