April 13, 2011
Hair loss in an adult and a child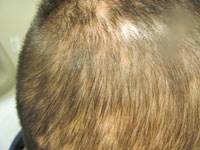 Hair loss in an adult and a child
---
CASE #1
A gay man aged 55 years with a history of hypothyroidism presented with a patchy-scalp
hair loss
of one month's duration. The scalp was not scaly and didn't itch, burn, or hurt. A rapid plasma regain (RPR) was positive with a titer of 1:16. A
Treponema pallidum
immunoglobulin (Ig)G antibody test measured 5.77 IV. Serum thyroxine measured 11.5 μg/dL, and anti-thyroid peroxidase was 38.6 IU/dL. An enzyme-linked immunosorbent assay test was negative for HIV. Skin biopsy showed plasma cells in a perifollicular distribution but no organisms with immunohistochemical stains.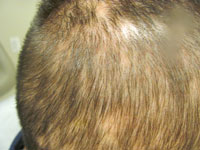 CASE #2
A boy aged 8 years presented with a several-month history of hair loss and black dots on the scalp. Little scaling was present, and lymph nodes were palpable in the neck. Examination of the scalp under a Wood's lamp revealed no fluorescence, and a KOH preparation was positive for hyphae. A culture of the hairs grew fungus with variably shaped microcondia and enlarged balloon forms. Twelve weeks of treatment with griseofulvin 25mg/kg resulted in complete regrowth of the hairs six months later.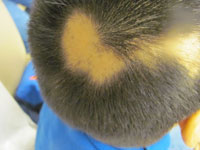 What is the diagnosis?
For CASE #1, click "NEXT." For CASE #2, click "3."