May 22, 2009
Peculiar violaceous, atraumatic rash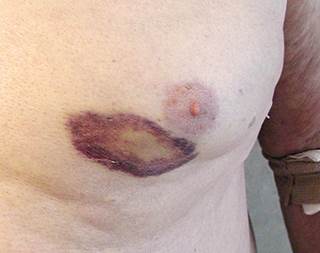 Peculiar violaceous, atraumatic rash
A 79-year-old Caucasian man with a history of chest pain, light-headedness, and diaphoresis was admitted to rule out acute coronary syndrome. He incidentally noted a bruise that had appeared spontaneously on his chest without trauma four days prior to admission. The patient's history included supraventricular tachycardia for which he had recently undergone ablation therapy. He had been taking aspirin 81 mg daily for years but was not taking warfarin (Coumadin) or any other anticoagulation medications. A few weeks prior to symptom onset, he had started taking naproxen (Naprosyn, Anaprox).
What is your diagnosis?
For the answer, click "NEXT"