Features
Clinical Challenge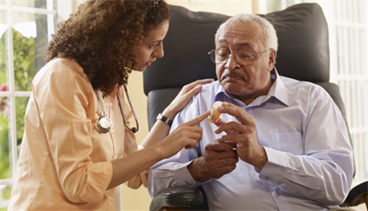 A patient with type 2 diabetes for ten years experienced three recent hospitalizations and a COPD exacerbation that required an increase in maintenance steroids.
Features

Cognitive behavioral therapy may have long-term positive effects 
in patients with insomnia who have chronic use of hypnotic drugs.
Alternative Meds Update
The risks of bee-venom therapy outweigh the potential benefits, and clinicians should discourage patients from this therapeutic method.
Features

Clinicians might need to consider an uncommon array of causes when faced with a pediatric patient suffering from abdominal ailments.
Clinical Challenge

A patient diagnosed with type 2 diabetes, hypertension, hyperlipidemia presents to the foot clinic after one month of swelling, redness, and warmth in the left foot.
Alternative Meds Update

The efficacy of topical fluoride products is only as good as compliance with their use.
Features

Congenital cytomegalovirus is a very common cause of birth defects, yet many primary-care providers are not well-informed about this infection.
Clinical Challenge

A patient, Ms. B., was diagnosed with type 1 diabetes three years ago.
Alternative Meds Update

Increasing biotin levels by supplement or by ingesting more biotin-rich foods may result in important benefits.
Clinical Challenge

A type 1 diabetes patient presents to an outpatient facility agitated and slurring his words. Emergency medical help was called to assist the patient.