September 22, 2014
Antiretrovirals excluding tenofovir OK for HIV patients with kidney problems
the Clinical Advisor take:
Antiretroviral therapy, excluding tenofovir, is beneficial for HIV-infected patients either at high risk for or diagnosed with moderate-to-severe kidney problems, according to updated guidelines issued by the Infectious Diseases Society of America (IDSA) published in Clinical Infectious Diseases.
Patients diagnosed with HIV and kidney problems are at increased risk for developing end-stage renal disease (ESRD). African-American patients who are HIV-positive have a four-to-five-fold increased risk of developing ESRD compared with uninfected African-American patients.
"Even mild chronic kidney disease poses a substantially increased risk of cardiovascular disease and death," explained Gregory Lucas, MD, of Johns Hopkins University, co-chair of the guidelines, in a press release.
HIV-positive patients with clinically decreased kidney function are less likely to be prescribed ART, due to concerns about medications being cleared by the kidneys. The guideline authors suggest, however, that health-care providers look into alternative HIV treatment options.
"The outlook for HIV patients with kidney disease is much better now that we have numerous effective treatments for HIV, many of which are not cleared by the kidneys," noted Lucas.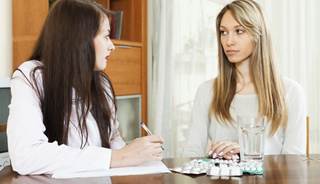 Antiretrovirals excluding tenofovir OK for HIV patients with kidney problems
Chronic kidney disease (CKD) is defined as abnormalities of kidney structure or function, present for >3 months, with implications for health [1]. CKD is common in human immunodeficiency virus (HIV)–infected persons, has many potential underlying etiologies, and is associated with increased morbidity and mortality.
These guidelines for the management of CKD in patients infected with HIV are an update of the 2005 version [2], designed to identify clinically relevant management questions, summarize pertinent data from clinical studies, and offer recommendations for clinical care. The scope of this document is CKD in HIV-infected adults and children in the United States. The guidelines do not address screening, evaluation, or management of HIV-related kidney disease in resource-constrained settings
Loading links....
Next Article in HIV/AIDS Information Center