March 07, 2015
Lifetime cost of HIV is upwards of $300,000
the Clinical Advisor take:
Preventing a single HIV case in the United States could save upwards of $200,000 in lifetime medical costs, according to a report published in Medical Care and presented at the 2015 Conference on Retroviruses and Opportunistic Infections in Seattle.
The researchers found that the average patient with HIV, who does not necessarily receive the best available care, spends $230,000 more than a person without HIV in lifetime medical costs. Patients who receive the best possible treatment spend over $338,000 more than someone without HIV.
The researchers used computer modeling hoping to create a metric to help evaluate potential prevention tools. Knowing the cost of an average case of HIV will allow scientists to determine if a prevention method is cost-effective.
The computer model, called the Cost-Effectiveness of Preventing AIDS Complications model, calculates life expectancy and costs for HIV patients.
They first analyzed a person without HIV with an average life expectancy of 73.1 years and found average lifetime medical costs of $96,700 to provide as a control.
For their base HIV case, the researchers worked off the current care patterns in which patients often receive late treatment, sometimes drop out, and don't consistently follow their regimens. In this model, they assumed the patient would start care at age 35 with an average life expectancy of 60.9 years.
The lifetime medical costs for this base case came out to $326,500, which can be broken down into 60% for antiretroviral medications, 25% for non-medication costs, and 15% for chronic disease medications and treating/preventing opportunistic infections.
They then analyzed the best case scenario, where the patient received treatment as early as possible and follows up with treatment for the rest of their life. In this case, they found the lifetime medical costs to be $435,000 with an average life expectancy of 68.5 years.
Preventing the base case of HIV would save $229,800, and preventing the best-case scenario would save $338,400.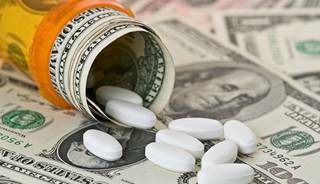 Lifetime cost of HIV
SEATTLE -- Preventing one HIV infection in the U.S. would avert nearly $230,000 in lifetime medical costs, a researcher reported.
And if every HIV patient entered care early and got the best possible treatment, preventing an infection in the first place would save more than $338,000, according to Bruce Schackman, PhD, of Weill Cornell Medical College in New York City.
The findings, from computer modeling, suggest that the value of HIV prevention in the U.S. is "substantial," Schackman reported online in Medical Care and here at the 2015 Conference on Retroviruses and Opportunistic Infections.
Next Article in HIV/AIDS Information Center