September 16, 2014
Use peers, home HIV tests to reach patients at risk
the Clinical Advisor take:
Researchers in Oakland, California, are utilizing OraQuick, a home-test kit that can detect HIV, and social networks to reach patients at greater risk for HIV.
Marguerita Lightfoot, director of the Center for Aids Prevention Studies (CAPS) at the University of California, San Francisco and colleagues, named high prices and a lack of discretion as two of the major contributors keeping at-risk patients from being tested.
The Oakland-based prevention program will use social networks to reach hard-to-identify men who haven't been tested for HIV but may be at risk. The target group is men who have sex with men, mainly in the African American and Hispanic communities.
Ten chosen patients, called peer navigators, will receive in-home tests kits and training, and then they will be asked to give the kits to five of their friends. "These peer navigators will not only help to reach people that the study would otherwise not be able to contact, but will be trained to help those who test positively," explained Lightfoot.
The effectiveness of the program relies on at least 50 people tested in each round of the two to three rounds of the study. If the strategy is successful, the department will be more likely to use it in the future, said Lightfoot.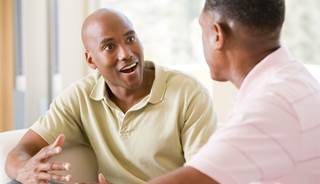 Use home HIV tests to improve HIV screening rates
A new study using networks of friends as "peer navigators" will soon be launched in the East Bay to reach men who may be vulnerable to the AIDS virus. It's part of an effort to make better use of confidential in-home HIV testing in order to reach at-risk populations in Oakland.
In 2013, the U.S. Food and Drug Administration approved OraQuick, an in-home test that involves detecting HIV by taking a oral swab containing saliva. The kits, which provide preliminary results in 20 to 40 minutes, are available at drug stores for people age 17 and older.
Next Article in HIV/AIDS Information Center