October 11, 2010
Urologist Pays Heavy Price After Discounting Complaints from Annoying Patient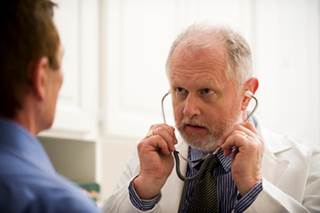 Urologist Pays Heavy Price After Discounting Complaints from Annoying Patient
Dr. L, 68, was busy. His urology practice was booming and he felt compelled to shuffle patients in and out quickly. As a sole practitioner for close to 30 years, he had specific ideas of how he wanted his office to run. His staff was businesslike and efficient, as was he, but he had no time for patients whom he perceived as "cranks." He had too many patients with serious problems and conditions to waste time on those who tended to be hypochondriacs.
Dr. L was looking forward to his upcoming retirement, and although he would miss many of his patients, one who Dr. L would not miss was Mr. N, 51. He was the sort of patient who set Dr. L on edge. Mr. N was a bachelor with no family and who spent much of his time alone and therefore, thought Dr. L, too much time thinking about every ache and pain and imagining the worst.
When he came in for appointments, he always had lengthy lists of questions which he would ask Dr. L. The physician would often find himself tapping his foot impatiently as Mr. N slowly described every detail of every complaint that he had. No twinge was too small to mention. Dr. L imagined his waiting room filling up, then overflowing, as all his time was spent calming Mr. N's anxieties.
The patient had originally come in at age 45, concerned about his frequent urination. He was diagnosed with prostatitis and began coming in frequently over the next several years with complaints of urgency incontinence, leaking, and frequent urination. He would describe, at great length, each bout of incontinence, each episode of leakage. He kept lists of how often he was urinating. Dr. L prescribed various medications, but these had little lasting effect.


Is it hypochondria?
Mr. N always expected the worst and would pepper Dr. L with questions about whether he might have cancer. The physician told him that it was highly unlikely as he was relatively young and had no family history of the malignancy. His PSA level was 1.9 ng/mL, which the Dr. L assured him was normal. Over the next four years, Mr. N came in repeatedly with continued urinary difficulties. He would describe each issue in great detail, including his anxiety.
Dr. L sighed to himself, nodded at the patient, and kept thinking about the pileup occurring in the waiting room. In frustration one day, when Mr. N was listing how many times he had urinated over the past month, Dr. L wrote "it's all crap" in the patient's chart, yet he ordered another PSA. This time the patient's PSA had increased to 4.0. The patient expressed concern, but Dr. L calmed him and told him that a level of 4 was "not worth getting excited about." The patient continued coming in regularly for another year, until Dr. L finally retired.


The diagnosis
After the physician retired, Mr. N went to a new urologist who obtained a PSA level of 3.5 and noted that this was very elevated for a man of Mr. N's age. The new doctor ordered an ultrasound-guided biopsy, which revealed that Mr. N had moderately and poorly differentiated adenocarcinoma of the prostate. Shortly thereafter, he was diagnosed with metastatic prostate cancer.
Mr. N was furious when he was diagnosed. He immediately consulted a plaintiff's attorney to decide whether he had a case. "I went to Dr. L for seven years," he told the attorney, "and he never ordered a biopsy, even when my PSA was 4. He barely listened to me." The attorney hired an expert who read the records and contended that a doubling of the PSA in a man with urinary symptoms is suggestive of prostate cancer and that Dr. L should have ordered a biopsy when the second PSA results were obtained.
This would have detected the cancer at a curable stage. "It's likely," the expert said, "that the patient will die from the cancer, and this is a direct result of Dr. L's negligence." The attorney took on the case and Dr. L was notified that he was being sued.
It was a shock to be jolted out of retirement by a lawsuit, and more of a shock to discover that Mr. N had been right about his concerns all along. The physician began reassessing his decisions, and how much credence he had given to Mr. N's complaints. Dr. L felt guilty, and couldn't muster up the fortitude to take the case to trial. Both sides sat down to settlement discussions, and the case was eventually settled out of court for $825,000.


Legal theory
Settlement is a viable (and sometimes preferred) option for several reasons. Trials are extremely costly, both in time, money, and stress for the parties involved. They often drag on for years, hanging like a dark cloud above the litigants. And in a case like this, where Dr. L had begun second guessing his actions and knew that the patient's chart, with his notation that it was "all crap" would be admitted as evidence, settlement was probably the best option.


Protecting yourself
Every clinician will, at some point in time, come across a patient they find disagreeable. The trick is to not let your feelings get in the way of your practice. Dr. L found Mr. N to be annoying, and so he discounted his complaints and did not assess them the same way that he would a patient whom he felt was not a hypochondriac. And although he may have felt like the patient's complaints were "all crap" at the time, writing that in the chart was inadvisable and served no legitimate purpose.