April 06, 2016
Testosterone treatment beneficial in older men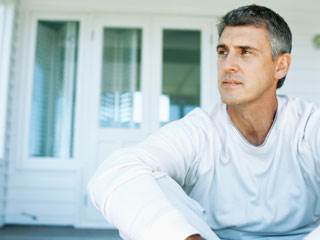 Men 65 years of age and older who received 1 year of testosterone therapy reported better mood and fewer depressive symptoms.
Raising testosterone levels for 1 year in men aged 65 years or older from moderately low to the middle of the range that is considered normal in younger men showed benefit in sexual function, walking, and mood, according to research published in the February 18 issue of the New England Journal of Medicine. 

Lead author Peter J. Snyder, MD, and fellow investigators studied the effect of testosterone gel or placebo gel applied for 1 year on 790 men aged 65 years or older with a serum testosterone concentration of less than 275 ng per deciliter and symptoms suggesting hypoandrogenism. Each of the men had participated in the Sexual Function Trial, the Physical Function Trial, and the Vitality Trial, or a combination of these. The researchers found that testosterone treatment increased serum testosterone levels to the mid-normal range for men aged 19 to 40 years and was associated with significantly increased sexual activity, as assessed by the Psychosexual Daily Questionnaire, and significantly increased sexual desire and erectile function. Walking only improved significantly when men in all 3 trials were included (20.5% of those on testosterone vs. 12.6% of those on placebo). Men who received testosterone reported slightly better mood and lower severity of depressive symptoms than those who received placebo.