September 08, 2014
Could food taxes and subsidies be the key to fighting obesity?
the Clinical Advisor take:
The approach the government has taken to fight obesity in the United States has "fallen short" according to an article published in Health Affairs.
Emphasizing a patient's responsibility to make healthy diet decisions by reading food package labels and following dietary guidelines, coupled with the heath-care system's priority on treating, rather than preventing, diseases and their risk factors has not slowed the rates of obesity, diabetes, and other diet-related conditions.
"More active policy interventions are needed to help individual adopt healthier diets," wrote Mozaffarian. The authors noted that other federal policy approaches have been instrumental in reducing tobacco rates, alcohol abuse, and death from car accidents.
"Mortality from motor vehicle crashes was not reduced by driver education alone or by labeling cars with information crash risk, but instead on comprehensive, multicomponent policies addressing the driver, the car, and the road," reasoned the authors.
While bans and restrictions may be perceived as intrusive, food subsidies and taxes that incentivize healthier options and allow for choice may be a more beneficial method of reducing obesity.
"The combination of taxation and subsidies (to reduce selection of unhealthy foods) offers a balanced, evidence-based approach," wrote Mozaffarian.
The overall purpose of taxes and subsidies would be to improve overall nutrition habits, not reduce caloric intake. "Even modest resulting dietary improvements could help reduce the burden of chronic disease significantly," noted the researchers.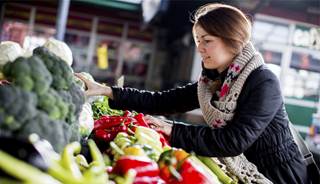 Could food taxes and subsidies be the key to fighting obesity?
Suboptimal diet quality is among the leading factors associated with death and disability in the United States1 and globally.2
Strategies to address suboptimal diet focus on nutrition education through dietary guidelines and food package labeling. However, this approach places responsibility for healthier diets on an individual's ability to make informed choices rather than addressing the complex, powerful environmental determinants of dietary habits.
Not surprisingly, this strategy has fallen short, as demonstrated by the increasing rates of obesity, diabetes, and other diet-related illness.
Next Article in News
2018 Upcoming Meetings
Sign Up for Free e-newsletters