November 03, 2014
New stroke prevention guidelines released
the Clinical Advisor take:
New recommendations to prevent first-time stroke have been released by the American Heart Association; the updates included guidance on hypertension management and diet modifications, according to MedPage Today.
Stroke is the fourth-leading cause of death amongst Americans and is the leading cause of functional impairment.
"For patients who are ≥65 years of age, six months after stroke, 26% are dependent in their activities of daily living, and 46% have cognitive deficits," wrote James F. Meschia, MD, FAHA, of the Mayo Clinic in Jacksonville, Florida, and colleagues in Stroke.
Because nearly 90% of stroke risk stem from modifiable lifestyle habits, more than 30 different recommendations focus on prevention efforts.
Managing hypertension was pinpointed as "the most important, well-documented modifiable risk factor for stroke," according to article's author. Clinicians are encouraged to suggest self-measured blood pressure monitoring for hypertensive patients in order to help keep blood pressure in check.
"Regular self-measurement of blood pressure, with or without additional support, resulted in better blood pressure control," noted MedPage Today.
The Mediterranean-style diet, which emphasizes eating vegetables, fruits, whole grains while limiting red meat and full-fat dairy, was added to the list of recommendations. The similar DASH Diet, which focuses on decreasing fat and sodium consumption, was also recommended as a method to mitigate stroke risk.
After reviewing the side effects of warfarin to treat nonvalvular atrial fibrillation, the researchers have updated the recommended anticoagulant treatment options; dabgiatran, apixaban, and rivaroxban are now included among the list of acceptable options. Guidelines for the treatment of patients with atrial fibrillation or other cardiac conditions have also been updated, along with options for reducing stroke risk in patients with migraines.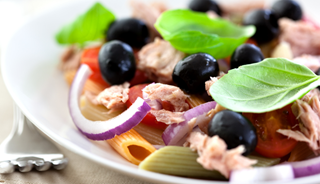 The Mediterranean-style diet was included among the new updates to lower stroke risk
Following a Mediterranean diet, monitoring high blood pressure at home, and increasing efforts to ban smoking in public places top the list of new recommendations for reducing stroke risk from the American Heart Association/American Stroke Association.
Revised stroke prevention guidelines also expand the list of acceptable oral anticoagulant options for patients with nonvalvular atrial fibrillation beyond warfarin to include dabigatran, apixaban, and rivaroxaban.
"The selection of antithrombotic agent should be individualized on the basis of patient risk factors (particularly risk for intracranial hemorrhage), cost, tolerability, patient preference, potential for drug interactions, and other clinical characteristics, including time International Normalized Ratio (INR) is in therapeutic range for patients taking warfarin," the writing committee wrote in the journal Stroke, published online Oct. 29.
Next Article in News
2018 Upcoming Meetings
Sign Up for Free e-newsletters