September 09, 2014
Novel single-dose flu drug shortens fever
the Clinical Advisor take:
A single dose of the investigational drug peramivir (Rapivab) reduced the duration of fever and viral shedding, according to research presented at Interscience Conference on Antimicrobial Agents and Chemotherapy (ICAAC) meeting in Washington, D.C.
To analyze the effects of peramivir, a neuraminidase inhibitor, on influenza symptoms, Rich Whitley, MD, of the University of Alabama at Birmingham, and colleagues analyzed the results of two trials. Patients were randomly assigned to receive peramivir or placebo within 48 hours of symptom onset.
Although patients treated with peramivir had lower among of the virus in their blood, the difference from placebo was not statistically significant, reported the investigators. Despite these results, the studies are sufficient in support of a phase II trial conducted in Japan in 2010, which forms the basis of applying for FDA approval.
Peramivir is already licensed in Japan and Korea and has been administered to more than 1 million Japanese patients.
The investigational drug can be administered by either intramuscular injection or intravenous infusion, but the drug's manufacturer, BioCryst is seeking indication for intravenous use because the intramuscular shot causes pain, according to researchers.
Oseltamivir (Tamiflu), a different neuraminidase inhibitor, is administered orally, and although effective, cannot be used to treat patients with symptoms of nausea and vomiting. Although general practices in the United States may shy away from IV medications, public authorities and large hospitals may be inclined to adopt the drug.
The single dose may be the true advantage of the drug, the researchers noted, stating that the single dosing may be an important tool in the event of an outbreak.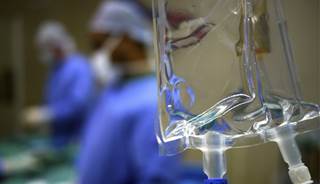 Single-dose flu drug shortens fever
WASHINGTON -- A single dose of an investigational influenza drug was able to reduce the duration of fever and viral shedding, researchers said here.
In a combined analysis of two randomized placebo-controlled trials, the neuraminidase inhibitor peramivir (Rapivab), given by injection within 48 hours of symptom onset, also lowered the amount of virus in the blood, according to Rich Whitley, MD, of the University of Alabama at Birmingham.
But while the drug reduced the time to resolution of symptoms -- the primary endpoint of the trials -- the difference from placebo was not statistically significant
Next Article in News
2018 Upcoming Meetings
Sign Up for Free e-newsletters