November 06, 2014
Behavioral counseling aids weight loss
the Clinical Advisor take:
Patients who are overweight or obese can lose a significant amount of weight with the help of behavioral counseling, according to a report published in MedPage Today.
Lead researcher Thomas Wadden, PhD, of the University of Pennsylvania, and colleagues found that patients who underwent behavioral counseling lost more weight compared with controls, but primary-care clinicians never delivered the counseling on their own.
The researchers reviewed studies of behavioral counseling for overweight and obese patients in primary care that were published between January 1980 and June 2014. They only included studies where patients were counseled for at least 3 months with at least 6 months of follow up.
The researchers found no studies in which primary-care providers delivered counseling on their own, finding that either a combination of doctors and interventionists or interventionists working on their own were delivering the counseling. The types of interventionists included registered dieticians, psychologists, exercise specialists, health counselors, medical assistants, and laypeople.
The mean weight change over six months in the intervention groups ranged from 0.3 kg to 6.6 kg compared with the mean change of control groups ranged from a gain of 0.9 kg to a loss of 2 kg. The researchers also noted that interventions that prescribed both reduced energy intake and increased physical activity in addition to behavioral therapy generally resulted in larger weight loss than interventions without all three.
The results suggest that a range of different interventionists can be considered for treating overweight or obese patients who were first encountered in primary-care settings.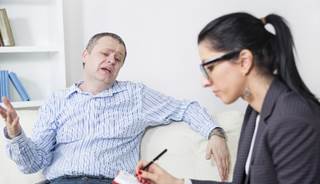 Behavioral therapy can significantly aid weight loss for overweight and obese patients.
BOSTON -- Intensive behavioral counseling can help patients lose a significant amount of weight, but it's rarely delivered by primary care doctors, researchers reported here.
In a meta-analysis, patients who had counseling achieved a maximum weight loss of 6.6 kg (about 14 lbs), compared with a top loss of about 2 kg (about 4 lbs) for those who did not participate in such programs, reported Thomas Wadden, PhD, of the University of Pennsylvania in Philadelphia, and colleagues here at Obesity Week and simultaneously online in the Journal of the American Medical Association.
But in none of the studies was that intervention delivered by primary care doctors alone, they reported.
Next Article in Obesity Resource Center