November 12, 2014
Brodalumab outperforms ustekinumab for psoriasis treatment
the Clinical Advisor take:
Brodalumab outperformed ustekinumab (Stelara) in completely clearing the skin of patients with psoriasis after 3 months, according to a report published by the National Psoriasis Foundation.
A statement released by Amgen and Astra, the makers of brodalumab, said that the new biologic drug for psoriasis resulted in clear skin for more patients than those on ustekinumab, as measured by the Psoriasis Area and Severity Index (PASI).
In a Phase III clinical trial, participants were randomly assigned to take ustekinumab, a placebo, 210 mg of brodalumab, or 140 mg of brodalumab.
The researchers found that 36% of patients taking 210 mg of brodalumab and 27% taking 140 mg achieved clear skin (PASI 100) after three months, compared with only 18.5% of patients on Stelara and <1% of patients on placebo.
In the 210 mg brodalumab group, 85% achieved 75% improvement (equivalent to a PASI score of 75). In both the 140 mg brodalumab and Stelara groups, 69% of patients reached PASI 75. Only 6% of those on the placebo reached 75% improvement.
Serious side effects occurred in approximately 1.5% of patients in the brodalumab groups, 0.6% in the Stelara group, and 1% in the placebo group. The most common side effects experienced by those taking brodalumab were the common cold, joint pain, upper respiratory tract infection, and headache.
The study will continue for up to five years, with all participants taking brodalumab after the first year.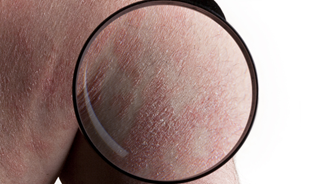 A new drug called brodalumab outperformed competitors in a clinical trial.
In a clinical trial pitting brodalumab, a new biologic drug for psoriasis, against Stelara (ustekinumab), more patients on brodalumab had completely clear skin after three months, according to a statement released earlier this week from Amgen and AstraZeneca, the makers of brodalumab.
Patients involved in the Phase III study were randomly assigned to take Stelara, a placebo, or 210 milligram (mg) or 140 mg doses of brodalumab, according to the statement, which reported results from the first three months of the study.
Next Article in Psoriasis Information Center