Pulmonary Medicine
Image-guided transthoracic needle biopsy
General description of procedure, equipment, technique
Image-guided transthoracic needle biopsy (TNB) is the percutaneous placement of biopsy needles into intrathoracic lesions under CT, sonographic, or fluoroscopic guidance for the purpose of establishing a pathologic or microbiologic diagnosis.
The majority of image-guided TNB is performed using CT guidance, which allows accurate needle placement into smaller (< 15 mm) lung lesions (Figure 1). The use of CT fluoroscopy may help in the repetitive adjustment of needle position for accurate placement into lung lesions.
Larger, pleural-based, masses in the lung, pleural space, or chest wall, as well as anterior mediastinal masses that provide an adequately wide acoustic window, can be sampled in real-time using sonographic guidance.
Fluoroscopy performed in orthogoal planes has been used by some to do real-time sampling of solitary pulmonary nodules and lung masses.
Indications and patient selection
The primary indication for image-guided TNB is the diagnosis of focal lung lesions or mediastinal, pleural, or chest wall masses. TNB is the method of choice for definitive evaluation of most solitary pulmonary nodules ( Figure 1A and Figure 1B). Any patient with a suspicious lung nodule that does not demonstrate characteristic benign features on a CT scan should be considered a candidate for TNB.
Figure 1A.
CT at lung windows shows an irregular left lower lobe nodule (arrow).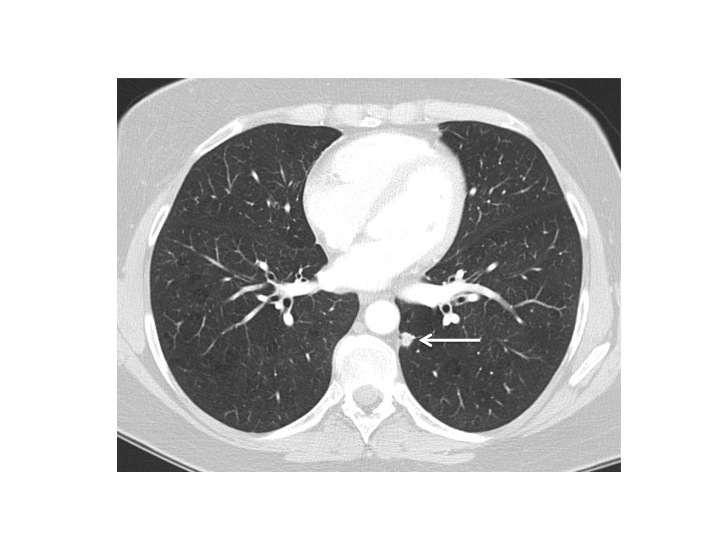 Figure 1B.
Prone CT during needle biopsy shows the guide needle of the coaxial system within the nodule. Cytologic diagnosis was a hamartoma.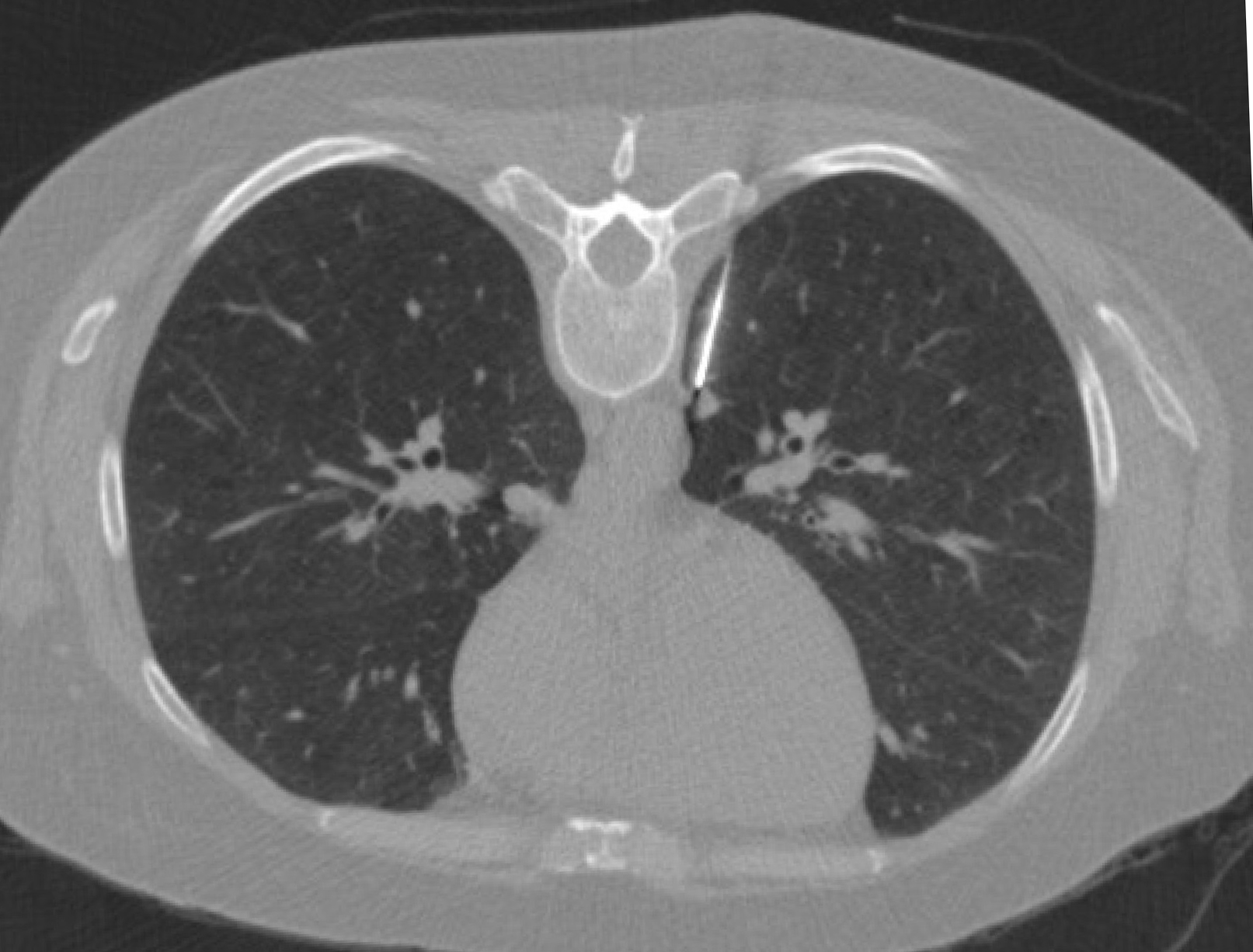 TNB is the procedure of choice for the diagnosis of metastatic disease in patients with known extrapulmonary malignancy and one or more lung nodules.
Solitary pulmonary nodules that are positive on FDG-PET imaging often warrant sampling by TNB in order to exclude malignancy.
CT-guided or sonographically guided biopsy of peripheral lung (Figure 2A and Figure 2B), pleural, or chest wall masses provides a definitive diagnosis in a majority of cases, usually with no complications. CT-guided or sonographically-guided TNB with core tissue biopsy is frequently helpful in diagnosing anterior mediastinal masses, and particularly in making the distinction between Hodgkin's or non-Hodgkin's lymphoma and thymic neoplasms or germ cell tumors. Findings from the technique may also be helpful in guiding further treatment.
Figure 2A.
CT through the upper chest shows a pleural-based left upper lobe lesion.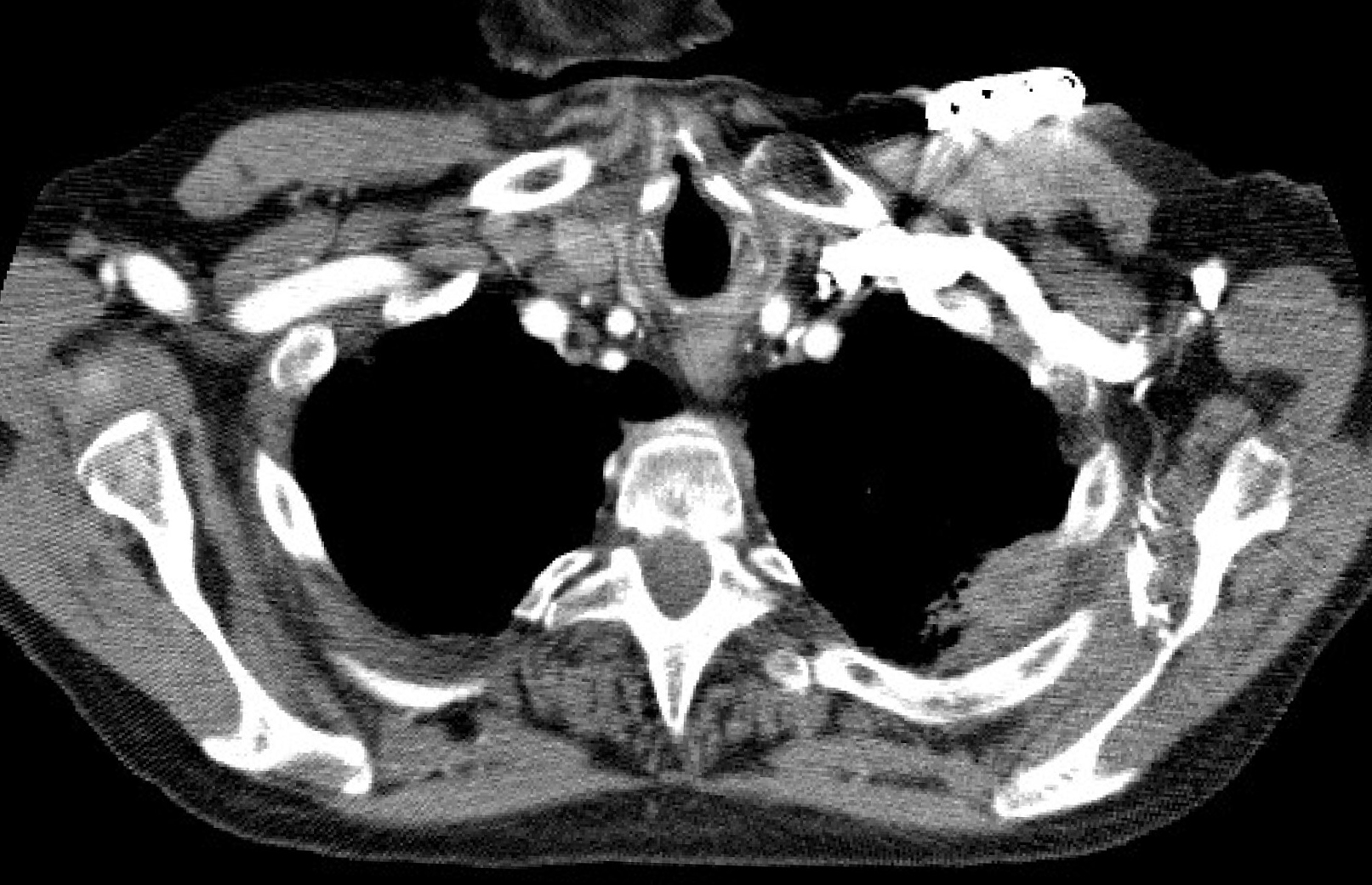 Figure 2B.
Sonographic image during needle biopsy shows a peripheral hypoechoic lesion (arrows) corresponding to the CT finding. Biopsy revealed non-small cell carcinoma.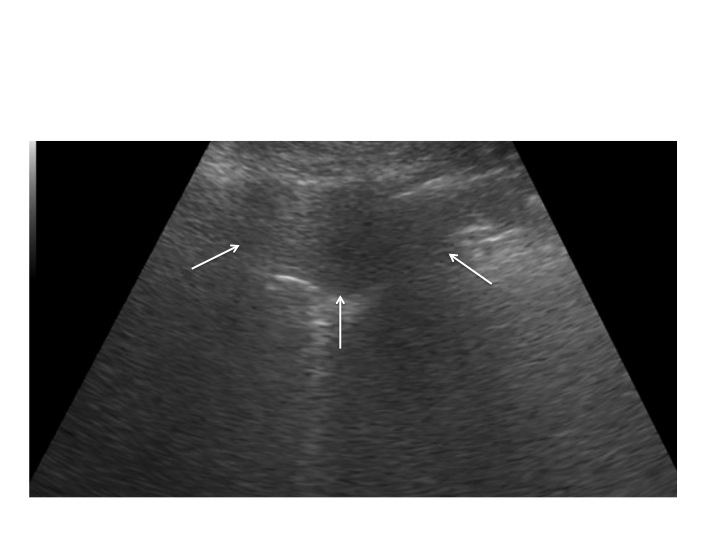 Contraindications
Although there are no absolute contraindications to image-guided TNB, several relative contraindications should be noted. The patient's inability to lie still or maintain a recumbent position for the duration of the procedure is a relative contraindication, although most patients can successfully complete the procedure under conscious sedation.
Bleeding diatheses should be corrected or optimized prior to TNB, particularly when a central lung lesion is to be sampled or when core tissue biopsies may be necessary. Most operators consider a platelet count of less than 50,000 or an INR higher than 1.2 or increased bleeding risk to be indicators that correction of these parameters should be undertaken prior to the procedure.
Lung biopsy in a patient with a history of a prior contralateral pneumonectomy, although technically feasible, can be associated with significant respiratory compromise if complicated by a pneumothorax. Close monitoring during and after the procedure is necessary to address this complication.
TNB in patients on mechanical ventilation may be associated with a greater risk of bronchopleural fistula formation and clinically significant pneumothorax.
Details of how the procedure is performed
Image-guided transthoracic needle biopsy is generally performed electively as an outpatient procedure. After fasting to allow for safe administration of conscious sedation, patients are typically given an amnestic agent (e.g., midazolam) and a short-acting narcotic analgesic (e.g., fentanyl). Pre-procedure assessment usually includes assessment of selected bleeding parameters, particularly the platelet count and INR, and their correction when warranted (see above).
Patients who are receiving antiplatelet drugs, including clopidogrel, aspirin, and other non-steroidal anti-inflammatory agents should discontinue the medication one week prior to the procedure. Coumadin is discontinued five days prior to biopsy; intravenously or subcutaneously administered heparin is safely withheld twelve hours prior to the procedure.
Procedure details are as follows:
Patients are placed in a recumbent position on the CT or fluoroscopy table. The needle entry site and pathway chosen are those that provide for the shortest distance to the lesion and avoid traversing of fissures, bullae, or blood vessels.

For a CT-guided approach, a series of scans through the lesion is obtained at end-expiration or functional residual capacity (FRC), which is usually the most comfortable and reproducible lung volume for the patient to maintain transiently. The appropriate needle entry site is then marked on the skin by employing measurements obtained on the CT console and a guiding light on the CT gantry.

After the area is cleaned and draped, local anesthesia is administered to the level of the parietal pleural surface, followed by placement of a 17-19-gauge, thin-walled needle, also inserted to the level of the parietal pleural surface. Once proper needle orientation is confirmed on CT images, the needle is advanced into the lung, mediastinal, or pleural mass during a patient breath-hold. Following confirmation of proper needle tip placement within the lesion on additional images, a 20-gauge or 22-gauge needle is placed coaxially through the guide needle, and samples are aspirated for cytologic analysis, which is optimally performed on site.

Procurement of additional samples for stains and cultures or core tissue samples for the diagnosis of benign lesions, such as granulomas or hamartomas, is dictated by cytopathology results obtained during the initial needle passes.

For mediastinal masses, particularly when lymphoma is the primary consideration, core tissue samples are obtained using a coaxially placed cutting needle since many lymphomas are fibrotic and may not yield adequate cytologic material for diagnosis.
Following tissue sampling, the guide needle is removed and the patient is placed on a stretcher with the biopsy site in a dependent position in an effort to reduce the risk of air leak and pneumothorax. Patients are typically observed for pneumothorax for two to four hours after the procedure. Most patients may be safely discharged to home if there is no pneumothorax or if a pneumothorax is small, stable, and asymptomatic.
Interpretation of results
Preliminary results from TNB are given verbally by an on-site cytopathologist or cytotechnologist following rapid staining and microscopic examination of the aspirated specimen, which is fixed onto slides using an alcohol fixative. Final results of TNB are typically rendered by the cytopathologist or, in the case of core tissue samples, a surgical pathologist 24-48 hours after completion of the procedure.
Adjunctive use of immunocytochemical markers as part of TNB is particularly useful in distinguishing primary lung adenocarcinoma from metastatic disease arising from the breast, colon, or rectum. In addition, analysis of cell blocks or core tissue samples from patients with non-resectable, advanced-stage adenocarcinoma for EGFR-receptor mutations--which is seen with greater frequency in patients with fewer than thirty pack-years of cigarette smoking, females, and those of Asian lineage--may be helpful in guiding systemic chemotherapy with EGFR-tyrosine kinase receptor inhibitors, including erlitnotib and gefitinib.
Microbiologic stains are usually available within hours, while culture results may take days (bacterial) or weeks (mycobacterial, fungal).
Performance characteristics of the procedure (applies only to diagnostic procedures)
Large published series have shown a sensitivity of over 90 percent for TNB in the diagnosis of malignancy. The diagnostic yield of TNB for benign disease is lower (probably about 65%), which likely reflects the smaller size of most granulomas (a common cause of benign solitary pulmonary nodules), the nonspecific histologic nature of sclerotic granulomas, and the difficulty of retrieving diagnostic cytologic material from aspiration of such lesions. A specific benign diagnosis is defined as one that allows confident exclusion of malignancy. TNB can establish benign diagnoses for granulomas, hamartomas, and specific microbiologic entities based upon identification of microorganism noted on stain or culture.
Outcomes (applies only to therapeutic procedures)
N/A
Alternative and/or additional procedures to consider
The alternatives to transthoracic needle biopsy for pathologic diagnosis of pulmonary lesions include transbronchial needle aspiration and VATS biopsy. Sampling of mediastinal masses and lymph nodes may be performed via endobronchial ultrasound (EBUS), mediastinoscopy, mediastinotomy, or endoscopic transesophageal biopsy.
In the absence of electromagnetically guided bronchoscopy, TNB is the procedure of choice for pulmonary lesions lacking a visible bronchus entering the lesion.
EBUS and endoscopic ultrasound-based techniques are now considered the standard of care in the staging of nodal disease in lung and esophageal cancer. Mediastinoscopy and mediastinotomy are reserved for patients in whom other diagnostic procedures cannot be performed or in whom other procedures have proved nondiagnostic.
Complications and their management
Complications of TNB include pneumothorax, bleeding, infection, and, rarely, air embolism or needle track seeding by tumor.
Pneumothorax is the most common complication of TNB, occuring in approximately 20 percent of procedures. Only 3-5 percent of all biopsies require catheter or tube drainage for management. Indications for pneumothorax evacuation include large, enlarging, or symptomatic pneumothorax.
Bleeding is commonly noted on the CT scan images obtained during CT-guided TNB. However, hemoptysis is uncommon, occurring in about 5 percent of patients. Patients who experience bleeding are managed conservatively, with the side of the biopsy placed in the dependent position in order to limit aspiration of blood into the contralateral lung.
Infection is very uncommon following TNB, occurring in less than 1 percent of patients.
Air embolism, which is reported to occur in less than 0.1 percent of procedures, arises from air entry into the pulmonary venous circulation, either directly through a needle positioned inadvertently into a vessel or from creation of a broncho- or alveolo-venous fistulae during needle placement. Cerebrovascular accidents and coronary ischemia are the most serious consequences of air embolism. If recognized during CT-guided biopsy, management includes placement of the patient in the left lateral decubitus position with legs elevated in an attempt to keep air that has entered the left ventricle from reaching the left ventricular outflow tract. Additional management includes transfer to a hyperbaric oxygen chamber.
What's the evidence?
Stanley, JH, Fish, GD, Andriole, JG, Gobien, RP, Betsill, WL, Laden, SA, Schabel, SI. "Lung lesions: cytologic diagnosis by fine-needle biopsy". Radiology. vol. 162. 1987. pp. 389-91.
This large series was one of the earliest to demonstrate the high level of accuracy of image-guided fine needle aspiration biopsy in the cytologic diagnosis of lung nodules.
Gupta, SK, Seaberg. "Imaging-guided percutaneous biopsy of mediastinal lesions: different approaches and anatomic considerations". Radiographics. vol. 25. 2005. pp. 763-86.
This pictorial essay details the anatomic considerations for accessing mediastinal masses under CT guidance for tissue diagnosis.
No sponsor or advertiser has participated in, approved or paid for the content provided by Decision Support in Medicine LLC. The Licensed Content is the property of and copyrighted by DSM.
Next Article in Pulmonary Medicine