January 04, 2017
Raynaud phenomenon: a cold-weather condition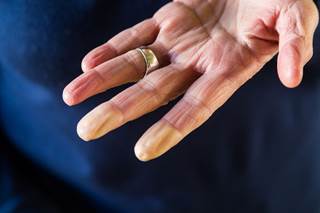 A thorough work-up can differentiate between primary and secondary forms, mitigating progression of a more severe underlying disease.
In addition to using nailfold capillaroscopy to detect abnormal patterns, the practitioner should look for other abnormal physical examination findings suggestive of an underlying condition. These may include, among others, the following: diminished pulses in the extremities, malar rash, swollen joints, telangiectasia, skin tightening, and digital ulceration.2 Additional features that can suggest the presence of an underlying rheumatic disease include age older than 30 years, relatively intense episodes, unilateral involvement, abnormal nailfold capillaries, and abnormal results of serology tests, such as antinuclear antibody (ANA), C-reactive protein (CRP), and erythrocyte sedimentation rate (ESR).9
What are the treatment options?
In all patients with RP, the first-line treatment involves lifestyle modifications, such as avoidance of smoking, exposure to cold, emotional stress, medications that cause vasoconstriction, and occupational use of vibratory equipment. Proper care of the hands and feet is important because wounds are generally slow to heal, making infection hard to manage.2
For patients with relatively severe symptoms or symptoms not relieved by lifestyle modifications, drug therapy can be initiated. Calcium channel blockers are used for severe primary RP (they are less effective in secondary RP) and have been shown to reduce both the frequency and severity of attacks. Generally, 30 to 90 mg of nifedipine daily has been shown to be effective.10 Other drugs that have shown some benefit include the selective serotonin reuptake inhibitor fluoxetine, topical nitroglycerin, phosphodiesterase inhibitors (sildenafil, tadalafil, and vardenafil), sympatholytic agents, angiotensin-converting enzyme (ACE) inhibitors, endothelin receptor inhibitors, statins, antiplatelet agents, and prostaglandins.2 The medication and dosage recommendations for a patient with RP are listed in Table 2.11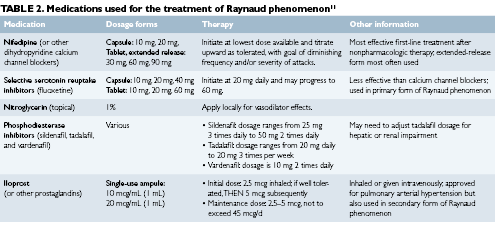 In patients with secondary RP due to an underlying connective tissue disease, quality of life is more likely to decrease and management is more difficult. These patients experience relatively frequent, intense, painful exacerbations of their disease. The increased severity of the attacks can lead to the development of skin ulcerations, which may eventually result in scarring, necrosis, or gangrene of the affected area. Surgery may be indicated if the ischemia is so severe that it causes bone necrosis and self-amputation of the fingertips.12 Along with skin manifestations, several body systems are likely to be involved by disease, and patients need to be managed on several different levels.1
Conclusion
RP does not greatly affect a patient's quality of life unless it is secondary to an underlying cause and leads to gangrene or digital necrosis. In most cases, primary RP is a moderate nuisance that patients can tolerate by modifying their environment or stress level, and it is doubtful that further investigation will have a major effect on their overall health. On the other hand, secondary RP may very well be the first clinical manifestation of a connective tissue disease. If the progression of a more severe underlying disease can be mitigated, then a patient work-up and assessment of the disorder will be well worth the time.
Macy A. Cook, PA-C, is a critical care physician assistant for Piedmont Healthcare in Atlanta.
References
Prete M, Fatone MC, Favoino E, Perosa F. Raynaud's phenomenon: from molecular pathogenesis to therapy. Autoimmun Rev. 2014;13:655-667.
Papadakis MA, McPhee SJ, Rabow MW, eds. Current Medical Diagnosis & Treatment 2013. 52nd ed. New York, NY: McGraw-Hill; 2013.
Sunderkotter C, Riemekasten G. Pathophysiology and clinical consequences of Raynaud's phenomenon related to systemic sclerosis. Rheumatology. 2006;45:33-35.
Wu PC, Huang MN, Kuo YM, Hsieh SC, Yu CL. Clinical applicability of quantitative nailfold capillaroscopy in differential diagnosis of connective tissue diseases with Raynaud's phenomenon. J Formos Med Assoc. 2013;112:482-488.
Cutolo M, Sulli A, Pizzorni C, Accardo S. Nailfold videocapillaroscopy assessment of microvascular damage in systemic sclerosis. J Rheumatol. 2000;27:155-160.
Klyscz T, Bogenschutz O, Junger M, Rassner G. Microangiopathic changes and functional disorders of nailfold capillaries in dermatomyositis [in German]. Hautarzt. 1996;47:289-293.
Candela M, Pansoni A, De Carolis ST, et al. Nailfold capillary microscopy in patients with antiphospholipid syndrome [in Italian]. Recent Prog Med. 1998;89:444-449.
Granier F, Vayssairat M, Priollet P, Housset E. Nailfold capillary microscopy in mixed connective tissue disease. Comparison with systemic sclerosis and systemic lupus erythematosus. Arthritis Rheum. 1986;29:189-195.
Chikura B, Moore T, Manning J, Vail A, Herrick AL. Thumb involvement in Raynaud's phenomenon as an indicator of underlying connective tissue disease. J Rheumatol. 2010;37:783-786.
Butendieck RR, Murray PM. Raynaud disease. J Hand Surg Am. 2013;39:121-123.
Hansen-Dispenza H. Raynaud phenomenon medication. Medscape. http://emedicine.medscape.com/article/331197-medication. Updated November 17, 2015. Accessed December 8, 2016.
Amanzi I, Braschi F, Fiori G, et al. Digital ulcers in scleroderma: staging, characteristics and sub-setting through observation of 1614 digital lesions. Rheumatology (Oxford). 2010;49:1374-1382.