December 19, 2011
Stat Consult: Celiac disease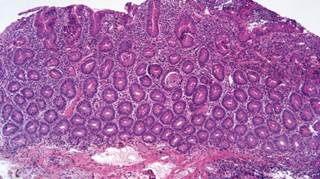 Photomicrograph showing complete atrophy of the duodenal villi.
Description 

Malabsorption syndrome related to immune reaction to gluten in diet. Also referred to as celiac sprue or gluten intolerance.

ICD-9 codes 

Epidemiology

Celiac disease may be more common than recognized.

Almost 1% of the Western population is estimated to have celiac disease.

Peak incidence occurs in adults who are aged 40-50 years.

Celiac disease is more common in women than in men (3.33:1)

Causes 

Thought to be attributable to 

- Genetics

- Toxic effect of gluten/gliadin (gliadin is a glycoprotein component of gluten)

- Immune reaction (antibody to gluten/gliadin)

Pathogenesis

Gluten is found in most food products that contain wheat, barley, and rye, so it is widely prevalent in typical diets.

Effects on intestinal mucosa

- Villi become blunted or flat

- Crypts hypertrophy

- Increased numbers of intraepithelial lymphocytes, plasma cells, and lymphocytes in lamina propria

Risk factors 

Family history of celiac disease

Diabetes mellitus type 1

Complications 

Collagenous sprue

Intestinal ulcers or strictures

Nutritional complications 

- Malabsorption

- Vitamin D deficiency

- Osteomalacia/rickets
: Short stature; iron-resistant anemia
.
Delayed puberty 

Low bone mineral density and bone mineral content 

Malignancy (e.g. gastrointestinal cancer, non-Hogkin lymphoma)

Associated conditions 

Dermatologic conditions (e.g. dermatitis herpetiformis, xerosis, keratosis pilaris)

Immunologic conditions

- Immunoglobulin (Ig)A deficiency

- Common variable immunodeficiency

Rheumatologic conditions

- Sjögren syndrome 

- Rheumatoid arthritis 

Gastrointestinal conditions

- Esophagitis

- Microscopic colitis and irritable bowel syndrome

- Association between celiac disease and primary biliary cirrhosis is controversial.

Endocrine conditions

- Thyroid disease in children

- Osteoporosis

- Diabetes mellitus type 1

Neurologic disorders (e.g. hypotonia, developmental delay, learning disorders, headache, attention-deficit hyperactivity disorder)

Down syndrome

IgA nephropathy 

Social phobia and depression

History

Chronic diarrhea

Foul-smelling stools (pale, bulky, frothy, floating)

Abdominal bloating and pain 

Vomiting and weight loss 

Weakness, fatigue

Physical Exam

In infants

- Growth retardation

- Failure to thrive

- Irritability

In children 

- Short stature

- Delayed puberty

Most patients are thin 

Dermatologic findings such as xerosis or keratosis pilaris

Abdominal distention may occur

Making the diagnosis 

A presumptive diagnosis is based on a combination of clinical presentation and positive serology (tissue transglutaminase or antiendomysial antibody tests).

Distal duodenal biopsy is needed to confirm diagnosis.

All initial serology testing and biopsies should be performed before starting gluten restriction.

Rule out 

Infection

- Rotavirus gastroenteritis

- Giardiasis

Immunologic conditions

- Allergic enterocolitis (milk protein allergy, soy allergy, rice allergy)

- Breast milk intolerance
- Collagenous colitis

Malabsorption 

- Lactose intolerance

- Tropical sprue

- Pancreatic insufficiency

- Crohn's disease

Testing to consider

Serologic testing

- IgA tissue transglutaminase antibody (tTG)

- IgA antiendomysial antibody (EMA)

If antibody testing is positive, confirm with distal duodenal biopsy.

- Positive findings on biopsy include: 
Villous atrophy; flattening of mucosa
; lymphocytes and plasma cells in lamina propria
; increased mitoses in crypts

If negative IgA tTG or IgA EMA and celiac disease is still suspected

- Serum IgA level (if selective IgA deficiency, immunoglobulin G [Ig]G, tTG or IgG EMA can be used)

- HLA genetic testing (absence of DQ2 or DQ8 alleles rules out celiac disease)

- Upper intestinal endoscopy and distal duodenal biopsy if otherwise warranted

Testing for nutritional deficiencies (hemoglobin, iron, folate, calcium, vitamin D)

Radiographic studies are not necessary for celiac disease, but may be used to rule out other diagnoses.

Treatment overview 

Lifelong gluten-free diet recommended

- Avoid all foods containing wheat, rye, and barley gluten

- Avoid all foods containing oats and lactose initially

- Avoid beers, lagers, ales, and stouts

- Other foods that may include gluten include dextrins, malt, and caramel coloring. 

- Beware of gluten in medications, and in food additives, emulsifiers, and stabilizers.

- Wheat flour may be used in many prepared foods including canned products, salad dressings, and 
ice creams.

- Use only rice, corn, maize, buckwheat, potato, soybean, or tapioca flours, meals, or starches.

- Look for foods with the gluten-free symbol.

- Try wheat starch with gluten removed, oats, and lactose after diagnosis is established.

The amount of gluten that causes symptoms varies among patients with celiac disease.

Strict adherence to a gluten-free diet for more than five years may reduce risk for non-Hodgkin lymphoma.

Oats in diet appear safe in controlled trials, but some patients may have oat intolerance and commercial oats are often contaminated with gluten.

Treat nutritional deficiencies with special attention to iron, folate, and vitamin B12.

Addition of budesonide to a gluten-free diet may im­­prove symptoms in patients with celiac disease with malabsorption

Limited evidence for immunosuppression therapy (e.g. azathioprine, infliximab, cyclosporine) for refractory celiac disease 

Additional considerations

Refer patient to experienced dietitian

Refer patient to support group

In patients with newly diagnosed celiac disease who also have anxiety and depression, adding psychological support when starting a gluten-free diet is associated with lower rates of depression after six months.

Gluten-free camp attendance reported to improve quality of life in children with celiac disease

Follow-up 

Monitor patients for improved symptoms in response to a gluten-free diet (expected after six to 12 months)

Monitor dietary compliance

Check bone mineral density to assess for osteoporosis
Brian Randall, MD, is a clinical editor for DynaMed, a database of comprehensive updated summaries covering more than 3,200 clinical topics, and Assistant Clinical Professor of Family Medicine at Tufts University School of Medicine.