February 04, 2010
Topical treatment turns ulcer pruritic
Allergic contact dermatitis
To view this full activity and take the posttest on mycme.com, click here.
A 74-year-old woman was admitted to the hospital for an exacerbation of congestive heart failure. For a year, she had had a venous stasis ulcer on the lateral left lower leg. During admission, topical bacitracin and a compression bandage were applied to the ulcer. Two days later, the patient complained of severe itching and burning, and the bandages were removed. Diffuse erythema surrounded the wound, with tense bullae in some areas. The erythema was extensive but limited to the areas covered by the bandages.
What is the diagnosis?
For the answer, click "NEXT"
CASE #1: Allergic contact dermatitis to bacitracin
Our patient had allergic contact dermatitis (ACD) to bacitracin. Antibacterial ointments are commonly used to treat superficial wound infections. They are also used to prevent wound infections, as in the treatment of open wounds or following routine skin surgery. Bacitracin is one of the topical antibiotics that is commonly used to prevent wound infections. At one time, neomycin was the topical antibiotic of choice, but with increasing reports of neomycin-related ACD, many clinicians switched to using bacitracin instead. However, bacitracin is a well-known allergen in its own right. Although clinicians may not think of bacitracin as particularly allergenic, multicenter data from the North American Contact Dermatitis Group identified bacitracin as the ninth most common allergen in 2001-2002, noting it as the cause of 7.9% of positive reactions.1 In recognition of rising rates of ACD to bacitracin, the American Contact Dermatitis Society dubbed it "Contact Allergen of the Year" in 2003.2
Bacitracin is a polypeptide antibiotic that inhibits bacterial cell-wall synthesis and is active against many gram-positive organisms. It may be used alone or in combination with other topical antibiotics, typically neomycin and polymyxin B. Although bacitracin is often used routinely to prevent wound infections, its use for this purpose is not well-substantiated. In a randomized, double-blind, prospective trial, 884 patients undergoing dermatologic surgery were treated with either white petrolatum or bacitracin ointment for postoperative wound care. Results showed no significant difference in wound infections between the two groups. The main difference between the groups was the increased rate of ACD in patients treated with bacitracin.3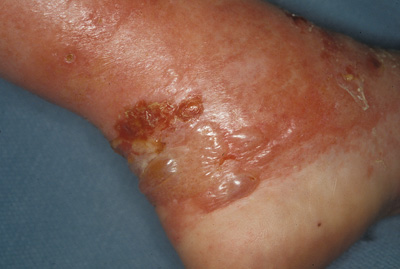 The risk for developing ACD to topical antibiotics appears to be increased in certain settings. Patients with wounds—either traumatic or surgical—seem to be at greater risk. Patients with chronic dermatitis, including those with eczematous dermatitis or stasis dermatitis, have a higher rate of contact dermatitis to topical antibiotics as well. Predisposing factors in these patient populations may include impairment of the skin barrier, prolonged use of topical antibiotics, and occlusion.
Patients with stasis dermatitis are particularly at risk for contact dermatitis to topical antibiotics as well as to multiple other products used on the legs. In summarizing individual studies involving a total of 2,631 patients with chronic venous insufficiency, Gehrig and Warshaw found that prevalence rates of contact allergy ranged from 50%-85%.4
ACD to bacitracin represents a type 4 T-cell mediated, delayed-type hypersensitivity reaction. Clinically, the patient may present with an acute dermatitis, which may include pruritic and erythematous papules, patches, or vesicles. These initially occur at the site of contact but may be followed by spread of the cutaneous inflammation beyond the sites of direct contact. In the setting of an underlying skin inflammation or breakdown, the allergy may manifest as a gradually worsening chronic dermatitis or as delayed healing of the original lesion. 
The diagnosis of ACD to bacitracin may be made clinically, although patch testing is the gold standard. Once patients develop a contact allergy, there is no way to desensitize them. Therefore, avoidance should be lifelong, and patient education in the techniques of avoidance becomes paramount. Patients should be advised to inform clinicians of their allergy, as topical bacitracin may be used postoperatively. Patients should also be advised that OTC products may contain bacitracin, especially in combination with other antibacterial ingredients, such as in triple-antibiotic ointment. Prescription products may also contain bacitracin, and patients should be advised to check the ingredient labels on otic and ophthalmologic preparations in particular.
In our patient's case, the bacitracin was discontinued and potent topical steroids were applied to the affected areas. Oral antihistamines were prescribed for the itching, and the patient's rash and symptoms improved over the following week. She was subsequently able to tolerate the same compression bandages she had had on her lower leg previously, with only petrolatum applied to the wound.
Dr. Katta is associate professor of dermatology at Baylor College of Medicine in Houston. Dr. Ansuri is an international medical graduate who served as an observor in Dr. Katta's department. The authors have no relationships to disclose relating to the content of this article.
References
1. Pratt MD, Belsito DV, DeLeo VA,  et al. North American Contact Dermatitis Group patch-test results, 2001-2002 study period. Dermatitis. 2004;15:176-183.
2. Sood A, Taylor JS. Bacitracin: allergen of the year. Am J Contact Dermat. 2003;14:3-4.
3. Smack DP, Harrington AC, Dunn C, et al. Infection and allergy incidence in ambulatory surgery patients using white petraolatum vs. bacitracin ointment. A randomized controlled trial. JAMA. 1996;276:972-977.
4.Gehrig KA, Warshaw EM. Allergic contact dermatitis to topical antibiotics: Epidemiology, responsible allergens, and management. J Am Acad Dermatol. 2008;58:1-21.