October 01, 2014
Genetic factors affect impact of exercise on type 2 diabetes risk
Exercise does not provide its usual benefit against diabetes in patients with high genetic risk for developing type 2 diabetes and insulin resistance.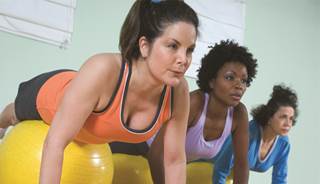 Exercise may not mitigate diabetes risk in all patients
HealthDay News -- Certain genetic risk factors may weaken the effect of physical activity in preventing the development of type 2 diabetes, suggest study findings published in Diabetologia.
To investigate the interactions between physical activity, genetics, and diabetes risk, Yann Klimentidis, MD, of the University of Arizona in Tucson, and colleagues followed 8,101 white Americans, including 821 with type 2 diabetes.
Exercise provided less protection against diabetes in study participants at high genetic risk for diabetes and insulin resistance, found the researchers. While certain diabetes-linked genes seemed to blunt the benefits of exercise for both men and women, women seemed most affected.
"Although physical activity generally protects against type 2 diabetes, our findings suggest that the level of protection conferred by physical activity is lower in individuals (especially women) with a higher genetic risk for type 2 diabetes or insulin resistance," concluded the researchers.