December 12, 2013
Mammography benefits more consistent than previously thought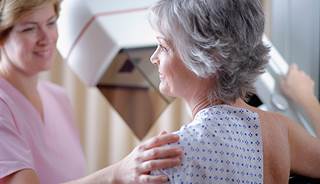 Mammography benefits more consistent than previously thought
HealthDay News -- The benefits of mammography screening for breast cancer are more consistent than previously thought upon a reexamination of data from four large well-publicized studies on the topic.
Differences in the number of women needed to screen in order to prevent one case of breast cancer among the studies dropped from 20-fold to fourfold, Robert A. Smith, PhD, senior director of cancer screening at the American Cancer Society in Atlanta reported at the 2013 San Antonio Breast Cancer Symposium.
The reviews included the U.K. Independent Review, the Nordic Cochrane review, the U.S. Preventive Services Task Force review and the European Screening Network review. In initial analyses of the data the estimated number needed to screen ranged from 111 to 2,000.
"What we found was that the estimates are all based on different situations, with different age groups being screened, different screening and follow-up periods, and differences in whether they refer to the number of women invited for screening or the number of women actually screened," Smith said.
After converting all four reviews to pertain to the scenario used in the U.K. Independent Review -- performing mammography in women aged 50 to 69 years and assessing breast cancer mortality in those aged 55 to 79 -- the between-trial disparity in absolute benefit attributable to mammography was reduced to 2.5-fold.
Overall, the adjusted estimates for the number of women needed to screen to prevent one case of breast cancer ranged from 64 to 257 across the four studies.
Specifically, the Nordic Cochrane review estimate for the number of women needed to screen dropped from 2,000 to 257. The USPSTF estimate dropped from 1,339 women aged 50 through 59 years and 337 women aged 60 through 69 years, to 193 for women aged 50 through 69 years. The EUROSCREEN estimate dropped from 111 to 64 women needed to screen.
"The debate about the value of mammography screening is not likely to fade away, and there are real, reasonable differences of opinion about various aspects of screening," Smith said. "However, we hope these findings reassure clinicians and the public that there is little question about the effectiveness of mammography screening, which should continue to play a very important role in our efforts to prevent deaths from breast cancer."