December 19, 2014
Metformin may promote weight loss in obese kids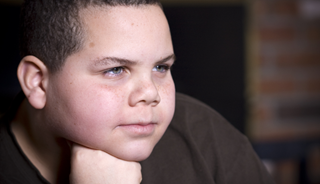 Metformin-treated food may promote weight loss in obese children
HealthDay News -- Metformin seems to decrease the perceived hunger and increased perceived fullness in obese hyperinsulinemic children, according to research published in Diabetes, Obesity and Metabolism.
"Metformin's ability to promote weight loss is believed to be at least partly attributable to decreased energy consumption," wrote Mopelola A. Adeyemo, MPH, of the National Institutes of Health in Bethesda, Md., and colleagues.
To evaluate the effects of metformin on body weight and energy balance in 100 obese, hyperinsulinemic children aged 6 to 12 years, the investigators conducted a double-blind, placebo-controlled trial.
On two separate occasions, 84 children were assigned to eat ad libitum from standardized food arrays, before and after six months of study medication. The first test meal was consumed after an overnight fast, while a pre-meal load preceded the second meal. Of the children, 45 were assigned metformin-treated food and 39 were assigned placebo-treated food.
Independent of changes in body composition, metformin treatment correlated with significant reductions from baseline in the adjusted mean energy intake after the pre-meal load compared with placebo (metformin: −104.5 ± 83.8 kcal; placebo: +144.2 ± 96.9 kcal; P=0.034).
Following the pre-meal load, there was a significant decrease in ratings of hunger and an increase in ratings of fullness with metformin (P=0.013 and 0.01, respectively).
"We found that the weight-loss effects of metformin treatment may be related to its ability to reduce energy intake in obese, hyperinsulinemic children," wrote the researchers.
References
Disclosures
One author disclosed financial ties to Pfizer.