October 31, 2014
Prenatal exposure to sodium valproate linked to lower IQ in offspring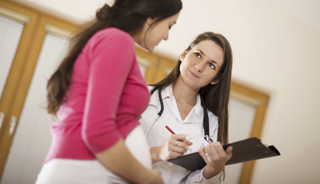 Prenatal exposure to sodium valproate linked to lower IQ in offspring
HealthDay News -- Prenatal exposure to sodium valproate (VPA) is associated with a reduction in offspring IQ, according to research published in The Cochrane Library.
"For most women who have epilepsy it is important for their health that they continue their medication during pregnancy," explained Rebecca Bromley, Clin PsyD, PhD, of the University of Manchester in the United Kingdom, and colleagues.
"Over the last 25 years research has shown that children exposed to these medications in the womb can be at a higher risk of having a birth defect or poorer level of development."
To assess the effects of prenatal exposure to commonly prescribed antiepileptic drugs on neurodevelopmental outcomes in the child, the investigators conducted a systematic review of literature that included 22 prospective cohort studies and six registry-based studies.
The developmental quotient (DQ) was lower in children exposed to carbamazepine compared with those born to women without epilepsy and to those born to women with untreated epilepsy; further analysis indicated that these results were due to within-study variability.
The DQ and IQ of children exposed to VPA were lower compared with children born to untreated women. The IQ of children exposed to VPA was lower compared with that of children born to women without epilepsy and that of those exposed to carbamazepine. In six studies, there was a dose effect reported for VPA, with higher doses associated with poorer cognitive outcome.
"It is of paramount importance that these potential risks are identified, minimized and communicated clearly to women with epilepsy," wrote the researchers.
"Informed treatment decisions require detailed counseling about these risks at treatment initiation and at pre-conceptual counseling."