January 09, 2015
Selenium, vitamin E supplements do not reduce cataract risk in men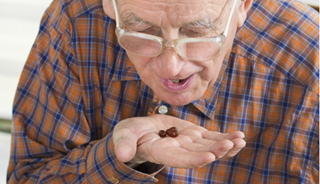 Selenium, vitamin E supplements do not reduce age-related cataract risk in men
HealthDay News -- Among men, long-term supplementation with selenium or vitamin E is not associated with a reduction in the risk of age-related cataract, results of a study published in JAMA Opthalmology indicate.
"Observational studies suggest a role for dietary nutrients such as vitamin E and selenium in cataract prevention," noted William G. Christen, ScD, of Brigham and Women's Hospital in Boston, and colleagues.
"However, the results of randomized clinical trials of vitamin E supplements and cataract have been disappointing and are not yet available for selenium."
To examine whether the long-term supplementation with selenium and vitamin E affects the incidence of cataract in a large cohort of men, the investigators culled data from 11,267 participants enrolled in the Selenium and Vitamin E Cancer Prevention Trial (SELECT) trial. The participants were all male and aged 50 years and older.
The participants were randomly assigned individual supplements of selenium (200 μg per day from L-selenomethionine) and vitamin E (400 IU per day of all rac-α-tocopheryl acetate).
During a mean of 5.6 years of treatment and follow-up, 389 cases of cataract were identified. There was no significant difference in the number of cataracts in the selenium versus the no selenium group (185 versus 204; hazard ratio [HR], 0.91; P=0.37). No difference was seen in the vitamin E treated group versus the placebo group (197 versus 192 cases; HR, 1.02; P=0.81). Results were similar for cataract extraction.
"These data from a large cohort of apparently healthy men indicate that long-term daily supplementation with selenium and/or vitamin E is unlikely to have a large beneficial effect on age-related cataract," concluded the researchers.
References
Disclosures
One author disclosed financial ties to Pfizer related to vitamins. Study agents, packaging, and multivitamins were provided by nutritional companies.