February 24, 2015
Skin patch improves peanut tolerance in those with allergy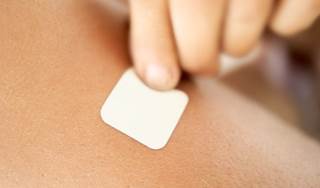 Skin patch improves peanut tolerance in those with allergy
HealthDay News -- A wearable patch that safely and gradually exposes the body to small amounts of peanut allergen appears effective in easing the allergy, findings from an early new study presented at the annual meeting of the American Academy of Allergy, Asthma & Immunology indicate.
The multi-national, double-blind, placebo controlled randomized phase IIb trial involved 221 people, aged 6 to 55 years, with peanut allergy. The researchers tried varying patch doses (50µg, 100 µg, or 250 µg) to see which was most effective. In addition, some participants were given a placebo.
After a year, half of the participants treated with the 250 µg patch were able to tolerate at least 1 gram of peanut protein — about four peanuts.
"[This] is 10 times the dose that they tolerated in their entry oral peanut challenge," study researcher Hugh Sampson, MD, director of the Jaffe Food Allergy Institute at Kravis Children's Hospital at Mount Sinai in New York City explained.
The patch appears safe: More than 95%of study participants used the patch as directed, and less than 1% dropped out due to adverse effects, according to the researchers.
The patch was most effective in children, meaning that larger doses may be needed for adults, Sampson told HealthDay. He added that it will take several years — and larger trials — before the patch may be approved for use.
Even the levels of peanut tolerance attained in a year "would protect you from small contaminations like at a restaurant or at a party," Sampson said. "And you wouldn't have to worry about labels that say, 'May contain peanut.'"
The study was funded by DBV technologies, which is developing the Viaskin Peanut patch.