December 14, 2012
U.S. chlamydia, gonorrhea rates increasing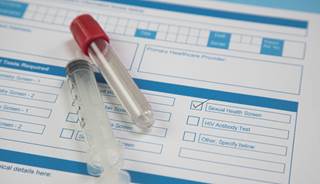 U.S. chlamydia, gonorrhea rates increasing
Infections from sexually transmitted diseases are increasing in certain populations, with chlamydia and gnorrhea among the most common, according to a recently released CDC report.
Chlamydia incidence increased 8%, from 423.6 per 100,000 people in 2010 to to 457.6 in 2011, accounting for a total of 1.4 million infections.
"This is the largest number of cases ever reported to CDC for any condition," Hillard Weinstock, MD, MPH, of the CDC's Division of STD Prevention at the National Center for HIV/AIDS, Viral Hepatitis, STD, and TB Prevention and colleagues reported in the 2011 Sexually Transmitted Diseases Report.
The rise is most likely due to increased screening and more complete national reporting, the agency said, noting that chlamydial infections have been increasing annually since the late 1980s, when public programs for screening and treatment of women were first established.
Gonorrhea infections also increased 4% from 100.2 per 100,000 in 2010 to 104.2 cases in 2011 for a total of 321,849 infections in 2011.
Although gonorrhea rates have decreased drastically since the 1970s, 2011 marks the second consecutive year incidence has increased since reaching a historic lows in 2006-2009.
"Antimicrobial resistance remains an important consideration in the treatment of gonorrhea," the researchers wrote. "With increased resistance to the fluoroquinolones and the declining susceptibility of cefixime, dual therapy with ceftriaxone and either azithromycin or doxycycline is now the only CDC recommended treatment for gonorrhea."
Surveillance data continues to show that numbers and rates of reported chlamydia and gonorrhea cases are highest in Americans between the ages of 15 and 24.
Syphilis infections have remained unchanged overall since 2010. Rates declined 9.1% in women, but increased 3.8% in men, with gay and bisexual men accounting for 72%. A total of 13,970 syphilis cases were reported in 2011.
"Risk behavior alone does not explain the disproportionate levels of infection among gay and bisexual men," the researchers wrote. "Complex issues like homophobia and stigma also can make it difficult for gay and bisexual men to seek appropriate care and treatment."