October 20, 2014
Yoga may ease inflammatory bowel disease
This article originally appeared
here.
Trends observed toward improvement in health-related quality of life and self-efficacy in children.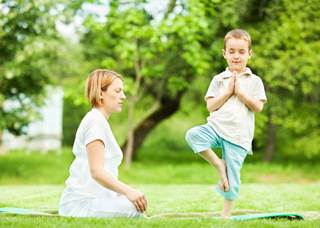 Yoga may ease inflammatory bowel disease
HealthDay News -- A formal yoga program may be beneficial for pediatric patients newly diagnosed with inflammatory bowel disease (IBD), according to a study presented at the annual meeting of the American College of Gastroenterology., held from Oct. 17 to 22 in Philadelphia.
Alycia Leiby, MD, from the Goryeb Children's Hospital Atlantic Health System in Morristown, N.J., and colleagues examined the role of yoga among twelve newly diagnosed patients aged 11 to 17 years (average, 13 years). Participants were randomly assigned in a 1:1 ratio to a yoga program (12 classes) or a waitlist control. Health-related quality of life (PedsQL total score) and self-efficacy were measured at three and six months from diagnosis.
The median change in total PedsQL was 100.0 and 12.5 in the yoga and waitlist control groups, respectively, although the results were not statistically significant (P=0.52), the researchers found. There was also no statistically significant change in self-efficacy scores between the groups (2.5 for yoga vs. 1.5 for waitlist control; P=0.37).
"Further study with a larger sample size will investigate if disease activity scores will change after yoga participation and determine if yoga will improve quality of life in this population," the researchers wrote.
References
Disclosure: Two authors were paid to teach the study subjects yoga.