October 07, 2015
The celebrity effect on healthcare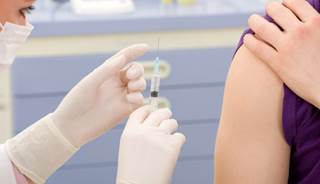 Children afflicted with preventable diseases are the result of anti-vaccination bias.
As much as it can be helpful to have a celebrity actor or sports figure champion education and information regarding a particular disease, the opposite can be true as well ["Star power in medicine," August 2015, p. 111]. I can't help but think of what Jenny McCarthy (former playboy model and celebrity personality) has done to reverse the research and ingenuity it took to find safe and effective ways to dramatically decrease the devastation of illnesses such as whooping cough and measles. While she has more recently backpedaled a bit on her stance, the loud message of her anti-vaccine campaign is difficult to "unhear." As a pediatric primary care provider, I am required daily to provide and explain the evidence that debunks the myths that she has propagated. Jenny McCarthy considers herself a "mother warrior." If this is true, the children afflicted with preventable diseases are the fallout from not vaccinating and should be considered the victims of friendly fire. Nothing good can come from undoing years of medical research proven to protect our children. — AMY JERUM, CPNP-BC, DNP student, University of Rochester, School of Nursing, Rochester, N.Y. (204-2)
---
These are letters from practitioners around the country who want to share their clinical problems and successes, observations and pearls with their colleagues. We invite you to participate. If you have a clinical pearl, submit it here.
---