May 25, 2015
AAPA sets sights on hospice care, improving mentorship in 2015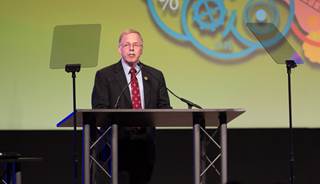 Jeffrey Katz, PA-C, DFAAPA, speaks at the AAPA 2015 meeting. Photo courtesy of AAPA
SAN FRANCISCO — Compassionate, complete, and thoughtful is how Jeffrey Katz, PA-C, DFAAPA, president-elect of the American Academy of Physician Assistants, described the difference in health care provided by physician assistants.
Katz has spent more than 20 years caring for rural patients at Family Care Center in Taylorsville, North Carolina, where he is a part-owner and a full-time clinician. He is also on the clinical faculty at Wake Forest University, where he precepts physician assistant (PA) students. Precepting students, Katz told The Clinical Advisor, is a passion.
"I was precepting students before it was cool," he joked, adding that more needs to be done to evolve the traditional student-preceptor model as generational differences in how PA students and preceptors work together become apparent. "Preceptors need to learn how to help students on their terms, as opposed to dictating to them what to do our terms."
Mentoring future leaders in the PA field is a crucial component of growing the profession. Those Katz has mentored have gone on to become leaders in the PA field, including the American Academy of Physician Assistants (AAPA) Director-at-Large Lauren Dobbs.
"How do we make sure we mentor leaders and mentor them so that they can make good, critical judgments as time moves on?" is a question more PAs should be asking, Katz said.
This is just one facet of the PA profession Katz hopes to evolve during his tenure as the AAPA president. Passing HR 3831, a federal bill that would allow physician assistants to order and serve hospice care, is another.
The Senate is currently reviewing the HR 1202, after passing it through Congress in 2012. Katz has spent 20 years caring for many of the same patients and finds the barrier PAs face when caring patients who need hospice difficult. "When you tell patients — 'sorry, I can't take care of you, the government won't let me,' — it's difficult and patients and families don't understand."
"The good thing is that you get them care anyway," he said. "But it's difficult because you have to turn over your patients to someone who they haven't dealt with over the years. It truly hinders the quality of care for these patients."
As he sets the stage for his presidency, Katz acknowledged the past leadership who have helped elevate the status of the PA profession. "I truly want to continue making sure we knock down practice barriers within legislation, regulations that prohibit us from practicing at the top of education and experience."