May 18, 2016
Liver transplant readmissions reduced through outpatient services protocol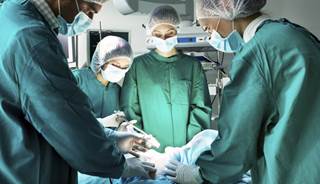 Patients who underwent orthotopic liver transplants were less likely to be readmitted to the hospital when treated via a specialized protocol.
SAN ANTONIO—Hospital readmission after liver transplantation can be reduced by implementing a protocol designed to expand outpatient services and provide alternatives to inpatient admission, according to research presented at the 2016 meeting of the American Academy of PAs (AAPA).
Michael B. Filsinger, PA, and colleagues, of the Division of Hepatology and Transplant Surgery at the Carolinas Healthcare System in Charlotte, North Carolina, conducted a prospective study of a protocol designed to reduce 30-day hospital readmission after liver transplantation. The protocol was built to emphasize various processes to improve patient teaching prior to discharge, develop alternatives to readmission, and implement closer patient follow-up with more flexible scheduling available.
Of the 167 adult liver transplants performed, 57 patients (34%) were readmitted. The most common reasons for readmission were biliary complications (n=13), infection or fever (n=10), and organ rejection or elevated liver tests (n=9). Throughout the course of the study, the 30-day readmission rate decreased from 40% prior to protocol implementation to 20% after protocol implementation.
"Readmission after liver transplantation can be reduced by implementing a specifically designed protocol that expands outpatient services and alternatives to inpatient admission," Mr. Filsinger concluded. "A concerted, process-driven, multidisciplinary approach involving physician assistants can decrease early readmissions after orthotopic liver transplantation, thus improving the efficiency of health care delivery."
Reference
Filsinger M, Russo MW, Levi DM, et al. Decreasing readmission rates after liver transplant with the implementation of physician assistants into post liver transplant clinic as part of a specifically designed protocol. ePoster presented at: 2016 meeting of the American Academy of PAs (AAPA); May 14-18, 2016; San Antonio, TX.