August 26, 2014
Dizziness, decreased mobility in an elderly diabetes patient
the Clinical Advisor take:
Clinicians should maintain a high index of suspicion for hypoglycemia in elderly patients with diabetes who present with nonspecific symptoms such as dizziness and decreased mobility, according to authors of a recent case study published in Diabetic Hypoglycemia.
Lauren McCluskey, an academic clinical fellow at the National Health Service Foundation Trust in Exeter, United Kingdom, and colleagues discussed the clinical outcome of an elderly patient, diagnosed with type 2 diabetes three years prior, who was admitted to the to the hospital after a fall in the home.
The patient, aged 91 years, presented with complaints of increasingly limited mobility and sporadic dizziness. Although she reported falling only once, the patient complained of dizzy spells that left her increasingly unconfident in her ability to walk unaided during the three months prior to admittance.
Physical examination revealed the patient was in normal health, with a normal power and full range of movement in all limbs. The patient had been prescribed long-standing weekly alendronate 70 mg, and a calcium supplement twice daily for osteoporosis, along with simvastatin 40 mg once daily and gliclazide 80 mg twice daily, which had been started five months earlier.
Physiotherapy assessment indicated the patient had average balance and muscle strength for her age. During the assessment, however, it was discovered that the patient was experiencing a hypoglycemic event. Her blood glucose dropped to 41.4 gm/dL and manifested as "slight dizziness," which made the patient feel "anxious and fretful."
"In view of the limited or atypical symptoms and the nature of the adverse events that are associated with hypoglycemia in the elderly, a strong index of suspicion is required at every consultation with an older patient who has any unexplained symptoms," wrote the authors.
The American Geriatrics Society and the American Diabetes Association guidelines for treating diabetes in the elderly emphasize individualized-care, the need to preserve quality of life and avoid hypoglycemia rather than focusing on the longer-term benefits of aggressive glycemic control.
However, only one small study to date has explored the feasibility of individualizing care in older patients and, "despite its mandate to select glycemic targets that were based on individual patient factors, the average HbA1c target was 7%," the authors wrote.
Failure to personalize and adjust diabetes treatment for this population may allow recurring bouts of hypoglycemia to occur, and if left untreated, may lead to increased cognitive decline, risk of cardiovascular events, and an up to 70% increased risk of fall and fractures.
"This is a significant problem in elderly people in whom their inherent risk of falls may be increased by various factors; hypoglycemia is one cause that should be avoidable," Brian M. Frier, MD, a consultant physician in internal medicine and diabetes at the Royal Infirmary in Edinburgh, emphasized in an accompanying editorial.
In this case study, the patient's gliclazide was discontinued after it was determined to be the presumed cause of her hypoglycemia. She underwent daily physiotherapy and experienced progressive improvements in mobility without dizziness recurrence. The patient was discharged after seven weeks and was prescribed vildagliptin 50 mg once daily for her diabetes.
Lack of confidence when mobilizing and hypoglycemia in an elderly lady with type 2 diabetes.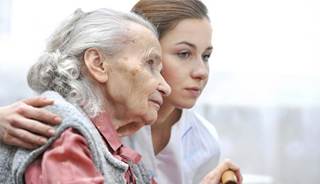 Dizziness, decreased mobility in elderly diabetes patient
An elderly lady with type 2 diabetes presented with the complaint of lack of confidence when mobilizing. Although she had experienced a single fall, this had resulted in a disproportionate reduction in her confidence and she described intermittent "dizzy episodes" when walking.
The latter were abolished after discontinuation of her sulfonylurea therapy, but rehabilitation to independent life required a period of 7 weeks in hospital.
This case highlights indirect consequences of hypoglycemia in older patients, with reduced quality of life and the healthcare cost of an avoidable hospital admission. In such cases, the need for hypoglycemic therapy should be reviewed, in view of the patient's limited life expectancy and the therapeutic delay between good glycemic control and clinical outcomes.
Next Article in Clinical Challenge
Sign Up for Free e-newsletters