July 17, 2008
Intrauterine Contraception: Who, Why, and How
Download:

Intrauterine Contraception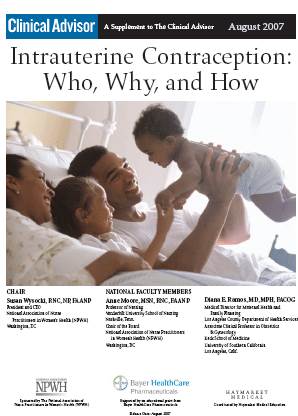 Intrauterine Contraception: Who, Why, and How
A Supplement to The Clinical Advisor, August 2007
Supported by an educational grant from Bayer HealthCare Pharmaceuticals®
Sponsored by The National Association of Nurse Practitioners in Women's Health (NPWH)
Target Audience: Nurse practitioners with an interest in contraception.
This monograph focuses on intrauterine contraception, featuring a case-based look at identifying appropriate contraceptive choices that factor in an individual woman's medical needs,reproductive goals, age, and lifestyle.
Accreditation Statement/Credit Designation: This activity has been evaluated and approved by the Continuing Educational Approval Program of the National Association of Nurse Practitioners in Women's Health (NPWH) for 1.5 contact hours of continuing education credit, including 1.5 contact hours of pharmacology credit.
Expires: August 31, 2008