June 05, 2016
Rehabilitation reduces in-hospital COPD mortality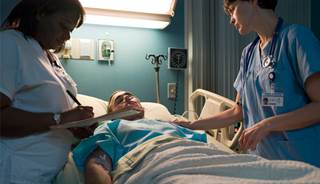 Patients who participate in rehabilitation have a lower in-hospital mortality rate.
Rehabilitation reduces in-hospital mortality in patients with chronic obstructive pulmonary disease (COPD), according to research published in Respiratory Care.
Yasuo Nakahara, MD, PhD, Department of Rehabilitation Medicine, Graduate School of Medicine at the University of Tokyo, and colleagues, conducted a retrospective cohort study of 18,037 patients with COPD from 1,055 hospitals. The researchers used the Japanese Diagnosis Procedure Combination nationwide claims database to compare post-admission hospital mortality rates after admission between rehabilitation and non-rehabilitation groups. A total of 6,712 pairs of subjects were selected from the rehabilitation and non-rehabilitation groups.
"Subjects in the rehabilitation program showed a reduction in the odds of mortality. …The rehabilitation group had lower in-hospital mortality than the non-rehabilitation group," noted Dr Nakahara. "This large nationwide cohort study showed that rehabilitation indeed contributed to a reduction of in-hospital mortality. These findings underscore the importance of adopting rehabilitation as part of the treatment of COPD."
Reference
Nakahara Y, Yasunaga H, Inokuchi H, et al. Morality-reducing effect of rehabilitation for COPD: Observational propensity-matched cohort study using a nationwide database. Respir Care. 2016; doi: 10.4187/respcare.04652