COPD Information Center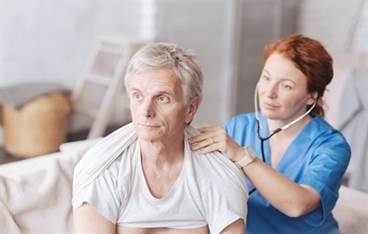 Use of long-acting bronchodilators is linked to cardiovascular risks in patients with COPD.

A middle-aged patient with morbid obesesity and COPD complains about having shortness of breath at rest and dyspnea on exertion.

Results support the benefits of single-inhaler triple therapy compared with inhaled corticosteroid/long-acting β2-agonist therapy in patients with advanced COPD.

The COPD Foundation has released tips for patients with COPD to avoid pneumonia and exacerbations.

Results show that exposure to pesticides and herbicides is associated with fixed airflow obstruction and chronic bronchitis.

Researchers found that doxycycline plus prednisone did not prolong the time between exacerbations in patients with COPD.

A chest CT can provide additional information on comorbidities, including coronary artery disease and osteoporosis.

Patients are more likely to exercise and participate in pulmonary rehabilitation if they live with others and have a caregiver.

LABA/LAMA is associated with a similar or lower risk of cardiovascular and cerebrovascular adverse events compared to treatment with LABA/inhaled corticosteroid.

Users of opioid-only agents had significantly increased rates of emergency room visits and hospitalizations for ischemic heart disease and IHD-related mortality.