March 11, 2009
Distinguishing dysplastic nevi
CASE #1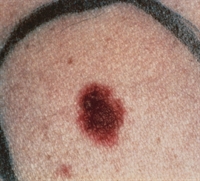 A 25-year-old woman presented with 50 asymptomatic moles on her torso and extremities. The moles have been accumulating over the past 10 years. Three moles removed by a previous dermatologist had been described as "a step away from being melanoma." On examination, a few moles were as large as 6 mm in diameter and had slightly irregular and indistinct borders. Most of the moles were flat and uniform in color, but two were a smudgy dark brown with a reddish hue on the periphery. The patient denied any personal or family history of melanoma. We removed the two mottled moles and had them biopsied.


CASE#2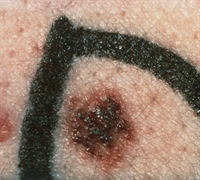 The patient was a 32-year-old, intellectually disabled white man who was referred to my office for evaluation of multiple irregular moles on the left lower aspect of his back. On physical examination, the patient had more than 100 melanocytic nevi, many of which were a mixture of colors: tan, brown, and pink. Some also had a dark blackish hue. In addition, many of the moles had irregular, somewhat notched borders. Several were >10 mm in diameter. Only the mole shown above was removed initially because the patient experienced an anxiety attack during the procedure.

What is your diagnosis?
Click on "Next" for CASE #1 and "3" for CASE #2.