May 04, 2009
Asymptomatic red plaque on the hand of a diabetic patient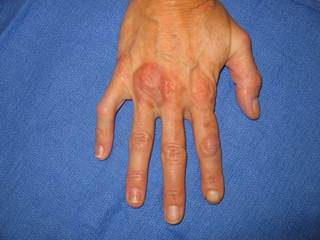 Asymptomatic red plaque on the hand of a diabetic patient
A 35-year-old Caucasian woman with diabetes mellitus was referred to us for evaluation and assessment of a slowly enlarging lesion that had first appeared on her hand eight weeks earlier. On physical examination, there was a non-scaly, annular erythematous plaque on the dorsum of the patient's left hand. The lesion was asymptomatic. The woman did not complain of pain, itching, or burning. Her medical history was otherwise unremarkable, and she was in generally good health.
What is your diagnosis?
For the answer, click "NEXT"