September 03, 2009
Skin fusion on the fingers and toes of an adolescent girl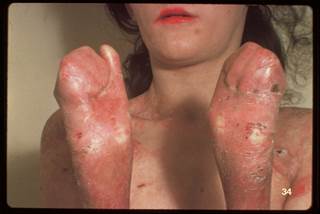 Skin fusion on the fingers and toes of an adolescent girl
A 12-year-old white girl was brought to my office by her parents. Blisters and erosions had been present on her trunk, extremities, and acral skin at birth. As she had grown, trauma-induced blistering with subsequent scarring had led to fusion of the skin of her fingers and toes. At presentation, she had no ulcerations and only minor blistering on her elbows. Previous skin biopsies had revealed a subepidermal blister. The girl was the first child of two children born to nonconsanguineous parents. There was no family history of blistering disorders or nail dystrophy.


What is your diagnosis?
For the answer, click "NEXT"