May 11, 2009
Thick ridges and valleys found on a newly shaved scalp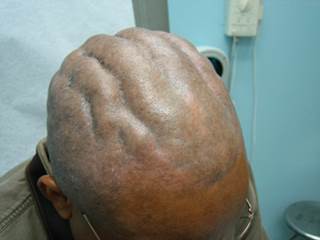 Thick ridges and valleys found on a newly shaved scalp
Distraught after breaking up with his girlfriend, a 58-year-old African-American man decided to have his head shaved. When the shaving was completed, the patient was alarmed to find that his scalp had many "ridges and valleys" and presented to the dermatology clinic for further evaluation. Physical examination revealed notable gyri and sulcilike skin folds. The patient was completely asymptomatic. There was no itching or burning. The scalp was nontender to palpation.
What is your diagnosis?
For the answer, click "NEXT"