October 17, 2014
Don't overlook the resurgence of rubella

The current infectious-disease focus is on ebola and enterovirus D68, but an old foe, rubella, is once again demanding attention.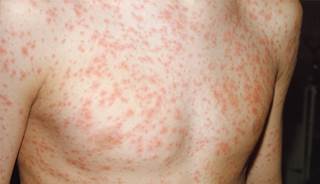 Rubella

Each month, The Clinical Advisor makes one new clinical feature available ahead of print. Don't forget to take the poll. The results will be published in the next month's issue.
Although the growing presence of both ebola virus and enterovirus D68 in the United States is making headlines, clinicians should be aware that another infectious disease, rubella, previously thought to be nearly eradicated by vaccination, is making a comeback, as evidenced by recent reports of outbreaks in the United States and around the world. 

In Poland, 21,283 cases of rubella were reported between January 2013 and April 2013, a 10-fold increase from the 2,224 cases recorded the previous year. The fact that 81% of these cases occurred among males aged 15 to 29 years is concerning because the risk of congenital rubella syndrome (CRS) increases in proportion to an increase in number of rubella cases within the young-adult population. 1
Japan is experiencing a similar increase in rubella, with the number of cases rising from 0.7 cases per million people in 2010 to 42.5 cases per million people by May 2013. The majority of these cases, 77%, were once again seen in young-adult men. 2

The United States also had rubella outbreaks last year: In North Texas and in the New York City borough of Brooklyn, individuals returned from trips abroad infected with the rubella virus. In Texas, 85% of cases of rubella occurred among those who were unvaccinated.

In Brooklyn, 79% of the cases were seen among unvaccinated individuals. 3 These rubella outbreaks are reviving measles, mumps, and rubella (MMR) vaccination campaigns by the World Health Organization (WHO) and the Centers for Disease Control and Prevention (CDC).4