February 09, 2015
Preventing and treating periodontitis
NPs and PAs must work in collaboration with oral health clinicians to effectively educate patients in the prevention of periodontal disease.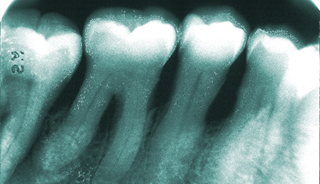 Treating and preventing periodontitis

Each month, The Clinical Advisor makes one new clinical feature available ahead of print. Don't forget to take the poll. The results will be published in the next month's issue.
Periodontitis is a complex, chronic inflammatory disease of the tissues surrounding the teeth. This chronic inflammatory condition leads to destruction of the bones that support the teeth and subsequently, tooth loss.1 Periodontitis is prevalent worldwide.1 In the United States, the 2009–2010 National Health and Nutrition Examination Survey [NHANES] indicates that 47% of adults aged 30 years and older have periodontitis, with 38% having moderate disease.2 According to the 2009 Adult Dental Survey, 9% of adults in the United Kingdom have severe periodontal disease.3 Periodontitis is classified as mild, moderate, or severe, based on the serial measurements of periodontal pocket depth, attachment loss, and gingival inflammation.2
Over time, periodontitis becomes more severe and leads to deleterious inflammatory responses and negative diabetes outcomes.1 Mealey and Rose found that diabetic persons with periodontitis have a sixfold higher risk of worsening glycemic control, compared with their counterparts.4 Several preventive strategies and treatment options are available to ameliorate the impact of periodontitis.4,5,6,7
Primary care providers, including nurse practitioners (NPs) and physician assistants (PAs), should become more aware of periodontitis so that they can educate patients about preventive strategies, assess and monitor patients' oral health, and select appropriate treatment options. The aim of this paper is to discuss periodontitis and the effect of periodontal prevention and treatment on glycemic control.


Pathogenesis of periodontitis


According to Chee and colleagues, periodontitis results from bacterial invasion of the tissue surrounding the teeth, and it is modified by host immune and inflammatory responses.8 The normal oral flora contains Gram-positive and Gram-negative cocci, but when there is a shift in the oral flora, gingivitis occurs.9 In periodontitis, the oral flora becomes burdened by pathogenic organisms such as Campylobacter, Peptostreptococcus, Porphyromonas gingivalis, Treponema denticola, and Tannerella forsythensis.9



These pathogens invade the potential spaces (pockets) between the teeth and the surrounding gingival tissue and then form a biofilm (plaque) on the surface of the teeth through their adherent cells. The pathogens not only cause local soft tissue destruction and bone resorption, but they also cause massive production of pro-inflammatory cytokines such as interleukin (IL-1β) and tumor necrosis factor-α (TNF-α), and prostanoids such as matrix metalloproteinases and prostaglandin E2.9 This inflammatory cascade is thought to increase insulin resistance and contribute to the development of metabolic dysfunction.1