June 08, 2018
Social Media and Adolescents: What Are the Health Risks?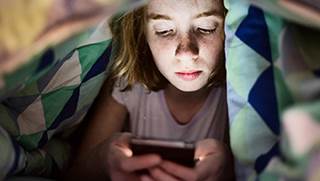 Primary care providers should screen for depression and other health-related risks associated with the use of social media by adolescents.
Evidenced-based findings
A systematic review of literature on social media and the health of young people was conducted by Richards and colleagues.4 The purpose of the study was to seek an understanding of the potential impact that social media may have on the health of young people. The results of the review concluded that social media had the greatest health impact on self-esteem, well-being, and body image, with related issues regarding cyberbullying and "Facebook depression."4
Pantic6 conducted a systematic review on social networking and mental health from research published between 2004 and 2014. The purpose of the review was to determine if there was a connection between social networking use in adolescents and mental health issues such as depression and low self-esteem. The results of the review concluded that the relationship between social networking use and depressive symptoms and self-esteem is inconclusive. Several studies indicated that signs and symptoms of depression may be related to prolonged use of social network sites, such as Facebook, and low self-esteem may be associated with certain social networking activities. Other studies presented a more positive effect on self-esteem with social networking use.6
Blomfield Neira and Barber7 conducted a survey of 1819 high school students in Western Australia on their use of social network sites. The authors sought to determine if there was an association between the use of social networking sites and social self-concept, self-esteem, and depressed mood. The students responded to questions on their social network use, frequency, and investment, as well as to questions on social self-concept, self-esteem, and depressed mood. The study concluded that having a social networking profile was correlated with a higher social self-concept. However, the study also concluded that lower self-esteem and a higher depressed mood were associated with an investment in social networking sites (Blomfield Neira and Barber).7
A 2016 survey study of 467 Scottish students, aged 11 to 17, was conducted by Woods and Scott.8 The study's purpose was to examine how social media use relates to an adolescent's anxiety and depression, low self-esteem, and poor sleep quality. The survey was used to measure overall social media use, anxiety and depression, self-esteem, sleep quality, and emotional investment in social media. The items were assessed using the Pittsburgh Sleep Quality Index (PSQI), the Hospital Anxiety and Depression Scale (HADS), the Rosenberg Self-Esteem Scale (RSES), and a modified Social Integration and Emotional Connections subscale of the Social Media Use Integration Scale. The study concluded that overall social media use, emotional investment in social media, and nighttime-specific social media use were associated with higher levels of anxiety and depression, lower self-esteem, and poorer sleep quality in adolescents.8
A descriptive study using a relational survey design was conducted by Kiracaburun9 of 1130 participants aged 12 to 18 who were attending schools in the Aegean region (2016). The authors sought to examine the relationship between depression, self-esteem, daily internet use, and social media addiction. Data from the participants were collected using the Children's Depression Inventory (CDI) tool, the Rosenberg Self-Esteem Scale (RSES), daily Internet use, and Social Media Addiction Scale. Data were then analyzed using the structural equation model, descriptive statistics, and Pearson correlation. The study demonstrated significant relationships between self-esteem, depression, social media addiction, and daily internet use. Self-esteem and depression were associated with each other, and both caused an increase in daily internet use, while social media positively affected depression levels in an indirect way. An increased risk was observed for depression in adolescents who spend a greater amount of time on social media. In conclusion, depression can be predicted by social media addiction, self-esteem, and daily Internet use in adolescents. It can be concluded that adolescents who have low self-esteem gravitate to the cyber world for interactions. This allows them to act anonymously and say and do what they please, while avoiding real world interactions.9
An observational, population-based, cross-sectional study was conducted by Pantic et al10 of 160 high school participants from Central Serbia. The purpose of the study was to determine the relationship between social networking and depression indicators in the adolescent population. Participants were asked questions from a structured questionnaire, as well as the Beck Depression Inventory, second edition (BDI-II-II). Statistical analysis and descriptive statistics were used after the data were collected. The results showed a statistically significant correlation between the amount of time that students reported using social networking and scores on the BDI-II-II, indicating that social networking in adolescents is related to depression. The depression score increased as the amount of time reported using social media increased.10
In 2016, a survey study was conducted by Chapin11 of 1488 adolescents. The purpose was to document adolescent experience with cyberbullying in relationships on Facebook. Participants answered questions related to Facebook use and experience with cyberbullying using a Likert-type scale. The information was applied to the Precaution Adoption Process Model (PAPM) to understand how adolescents use safety to secure their social media worlds and to understand their lack of precaution. The study documented that 84% of the population used Facebook daily, and 30% of the participants stated that they were cyberbullied. Of the 30% who were cyberbullied, 12.5% ceased use of the social media site, while 18% reported the cyberbullying to a parent. In conclusion, cyberbullying may be a consequence of Facebook use, and most adolescents are aware of the problem but have not intervened. In addition, adolescents still maintained the belief that they would not be cyberbullied when compared with their peers.