November 01, 2017
Preventing suicide in US veterans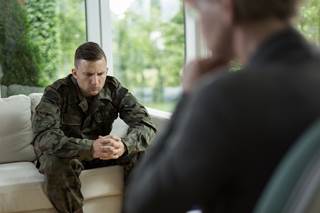 Data indicate that a mental health or behavioral disorder has been diagnosed in more than 41% of veterans currently living in the United States.
According to the Department of Labor,1 veterans are men and women who have served on active duty in the United States Armed Forces and include members of the Reserve and National Guard who are called to federal active duty. Since September 11, 2001, more than one and a half million veterans have served in military operations (Table 1).2 These deployments resulted in a spike in the incidence of mental health disorders, including depression and post-traumatic stress disorder (PTSD).3 Nearly half a million veterans have sought care for the treatment of PTSD, which a major risk factor for suicide, from the US Department of Veterans Affairs (VA).4
According to the Centers for Disease Control and Prevention (CDC),5 suicide is the tenth leading cause of death among Americans, accounting for 41,000 deaths in 2013. More than half of all suicides are related to firearms.5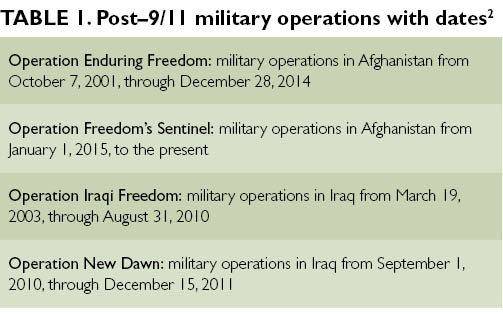 Men are 4 times more likely than women to complete a suicide attempt,5 primarily because women are more likely to use less lethal means, such as drug overdose. Also, a racial disparity exists within completed veteran suicides; whites are more likely than African-Americans, Hispanics, or Asians to complete a suicide attempt.6,7
According to the VA, 22 veterans and one active duty soldier committed suicide every day in 2012, or one every 65 minutes. Although 22 deaths per day has become a figure commonly cited to increase awareness of veteran suicide, the statistic has been debated. One study analyzing the National Violent Death Reporting System (NVDRS) found a misclassification bias.8 The authors determined that although the system is valid for the surveillance of veteran suicide, younger persons (<25 years old) who committed suicide were misclassified on death certificates as veterans when they were in fact current military personnel.8 Furthermore, only approximately 20 states were included in this 2012 VA estimation of 22 veteran deaths per day. A 2015 article in the Washington Post argued that 22 deaths per day was likely an overestimate. Other data indicate that the numbers of suicide-related deaths may be closer to 18 to 22 per day.9 Regardless of the exact number of deaths, providers should carefully screen veterans for suicide risk.
The suicide rate among deployed veterans is 41% higher than that in the general US population.6 Suicidal ideation is four times more common in veterans with PTSD than in veterans without the disorder,10 a finding that must be kept in mind when veterans are assessed for suicide risk.
Approximately 45% of veterans who committed suicide had contact with a primary care provider within 1 month of the act.11 Additionally, among the patients who had completed a suicide attempt, twice as many had been seen by primary care providers as by mental health providers.12