October 23, 2016
New plaster cast may help seniors avoid surgery for ankle fractures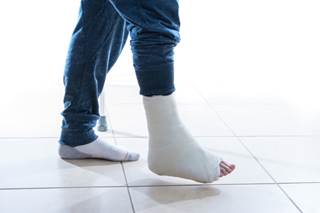 Close contact casting may help older adults avoid surgery after an ankle fracture.
HealthDay News — A new type of plaster cast might help older adults avoid surgery for unstable ankle fractures, according to research published in the Journal of the American Medical Association.
Keith Willett, MB, BS, a professor of orthopedics, rheumatology, and musculoskeletal sciences at the University of Oxford in the United Kingdom, and colleagues assessed the use of a new plaster cast technique, close contact casting. The study included 620 older adults in the United Kingdom with unstable ankle fractures. Half had surgery and half received a close contact cast.
Six weeks and 6 months after treatment, the researchers observed no significant differences between the 2 groups in terms of pain, ankle motion, mobility, or quality of life. Patients in the surgery group had more adverse events than those in the close contact cast group — 116 vs 71. Also, those in the close contact cast group spent an average of 54 minutes less time in the operating room, but required more outpatient consultations and use of hospital transportation. The length of hospital stay and the time it took patients to get back on their feet were similar in both groups.
"Among older adults with unstable ankle fracture, the use of close contact casting compared with surgery resulted in similar functional outcomes at 6 months," the authors write. "Close contact casting may be an appropriate treatment for such patients."
Reference
Willett K, Keene DJ, Mistry D, et al. Close contact casting vs surgery for initial treatment of unstable ankle fractures in older adults: A randomized clinical trial. JAMA. 2016;316(14):1455-1463. doi:10.1001/jama.2016.14719.