May 26, 2015
Hepatitis B treatment 100% effective in preclinical trials
the Clinical Advisor take:
A newly-developed treatment for the hepatitis B virus (HBV) was 100% effective in curing the virus in preclinical trials, according to two papers published in the Proceedings of the National Academy of Sciences.
The treatment is a combination of the antiviral drug entecavir and the anti-cancer drug birinapant.
Researchers at Melbourne's Walter and Eliza Hall Institute developed the treatment based on their previous research on the behavior of HBV in infected cells. The treatment targets cell signaling pathways that HBV uses to keep host liver cells alive.
"Birinapant enabled the destruction of hepatitis B-infected liver cells while leaving normal cells unharmed. Excitingly, when birinapant was administered in combination with current antiviral drug entecavir, the infection was cleared twice as fast compared with birinapant alone," said Marc Pellegrini, BSc, MBBS, PhD. "We are hopeful these promising results will be as successful in human clinical trials, which are currently underway in Melbourne, Perth and Adelaide."
The treatment lets the host cells rid themselves of the virus as opposed to targeting the virus itself. The researchers hope that this will help prevent drug-resistant strains of HBV from emerging. Additionally, this type of treatment may represent new research avenues for other chronic infectious diseases.
If this treatment is successful in human trials, it will be the first cure for HBV. Worldwide, over two billion people are infected with HBV, with 400 million of those people having chronic HBV infections.
Phase 1/2a clinical trials of the drug have been underway since December 2014.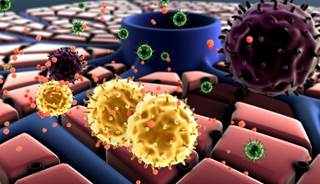 The hepatitis B treatment is currently in human trials in Australia.
Australian scientists have found a potential cure for hepatitis B virus (HBV) infections, with a promising new treatment proving 100 per cent successful in eliminating the infection in preclinical models.
Australian patients are now the first in the world to have access to the potential treatment – a combination of an antiviral drug and an anti-cancer drug - which is in phase 1/2a clinical trials in Melbourne, Perth and Adelaide.
Scientists from Melbourne's Walter and Eliza Hall Institute developed the combination treatment using birinapant, a drug developed by US biotech company TetraLogic Pharmaceuticals for treating cancer. Hepatitis B is a chronic viral disease that is currently incurable.
Next Article in Hepatology Information Center