February 27, 2015
Recent hepatitis C infections illuminate need for tightened infection control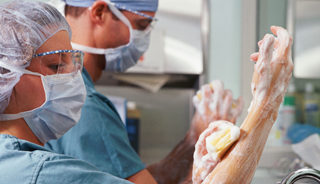 Recent hepatitis C infections illuminate need for tighten infection control
HealthDay News — Two cases of hepatitis C infection that occurred during routine surgery highlights the need for hospitals to tighten infection control to prevent more transmissions, according to research published in the United States Centers for Disease Control and Prevention's Morbidity and Mortality Weekly Report.
"Molecular analyses of hepatitis C virus (HCV) strains and epidemiologic investigations indicated that transmission likely resulted from breaches of infection prevention practices," wrote Andria Apostolou, PhD, of the CDC, and colleagues.
"Health care and public health professionals should consider health care–associated transmission when evaluating acute HCV infections."
In one case, two New Jersey patients (one of them had hepatitis C) received an injection of the anesthetic propofol from the same medication cart. In the other instance, two Wisconsin patients (one of them had hepatitis C) received kidneys that had been prepared for transplantation on the same machine, according to the report.
The source of the infection in the Wisconsin case was not pinpointed, Gwen Borlaug, MPH, coordinator of the HAI Prevention Program at the Wisconsin Division of Public Health in Madison, told HealthDay, but "we identified breaches in infection control practices in the operating room that likely resulted in the transmission."
In the New Jersey case, the infection was traced to contaminated equipment that was taken from one operating room to another. Barbara Montana, MD, MPH, medical director of the communicable disease service at the New Jersey Department of Health in Trenton, told HealthDay, "Fortunately, these infections can be prevented when health care providers follow basic infection prevention practices."