November 11, 2014
Altered milk protein may improve antiretroviral delivery in babies
the Clinical Advisor take:
Altering a protein in milk to bind with ritonavir (Norvir) may significantly improve treatment for babies and children diagnosed with HIV, according to research published in the Journal of Pharmaceutical Research.
Because of ritonavir's physicochemical properties, the antiretroviral drug has significant oral-delivery problems, making it challenging to administer to infants and young children, explained Federico Harte, PhD, of the Pennsylvania State University in University Park, Penn. in a university press release.
"When coming into contact with the stomach mucosa, ritonavir causes nausea, vomiting and diarrhea," said Harte. "Therefore, we need to develop alternative pediatric formulations of ritonavir and overcome its poor water solubility to improve its oral administration to infants and children."
To investigate new ART delivery methods for pediatric patients, Harte analyzed a group of proteins in cow's milk called caseins. Casein micelles act as delivery systems for amino acids and calcium; Harte sought to find if they may also delivery ritonavir molecules as well.
"What we found is these micelles are able to carry molecules that have very little solubility in water, that have low molecular weight and that are very hydrophobic -- such as ritonavir," said Harte.
Subjecting milk to ultra-high-pressure homogenization enhanced the binding properties of the casein micelles. In Harte's research, milk was homogenized between 400 and 500 megapascals, which disassociated the casein micelles and improved the protein's binding qualities to attach to drug molecules.
"As a result of this enhanced binding of molecules, we believe a milk powder containing ritonavir can be used as baby formula, providing a transport system for a drug that is not very soluble in water," said Harte.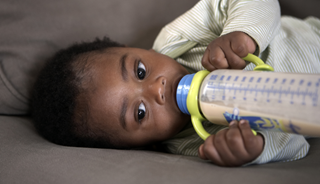 Altering a protein found in milk may improve drug delivery for HIV-positive infants
UNIVERSITY PARK, Pa. -- A novel method of altering a protein in milk to bind with an antiretroviral drug promises to greatly improve treatment for infants and young children suffering from HIV/AIDS, according to a researcher in Penn State's College of Agricultural Sciences.
That's critical because an estimated three million children are living with HIV/AIDS, the World Health Organization reports, and nine out of 10 of them live in resource-limited countries in sub-Saharan Africa, where effective antiretroviral treatments still are not widely accessible or available.
Next Article in HIV/AIDS Information Center