April 28, 2015
Subdermal delivery of antiretrovirals shows promise in early trials
the Clinical Advisor take:
A novel subdermal implant that delivers antiretroviral drugs shows promise in stopping the spread of HIV, according to study findings published in Antimicrobial Agents and Chemotherapy.
"This novel device will revolutionize how we treat or prevent HIV/AIDS, as it delivers powerful HIV-stopping drugs and eliminates one of the key obstacles in HIV/AIDS prevention — adherence to proper dosing regimens," said Marc Baum, PhD, of Oak Crest Institute of Science in a press release.
Adherence to a daily dosing regimen has emerged as a critical factor in determining the effective outcomes of antiretroviral drug clinical trials, noted Baum. Clinicians acknowledge that one of the main drawbacks in current medical treatments is the problem of adherence.
"Because adherence to therapy is inversely related to dosing period, sustained release or 'long-acting' antiretroviral drug formulations hold significant promise for increasing the effectiveness of HIV-1 pre-exposure prophylaxis (PrEP) by reducing dosing frequency," explained the study authors.
To investigate the efficacy of a subdermal implant antiretroviral delivery system, the investigators used a candidate device delivering tenofovir alafenamid (TAF) to more than 40 animal subjects. No adverse events related to treatment with the test article were noted during the course of the study, noted the researchers.
High concentrations of the pharmacologically active metabolite, tenofovir diphosphate, were observed in peripheral blood mononuclear cells, levels over 30 times higher than those associated with HIV-1 PrEP efficacy in humans.
"Our report on the first sustained release nucleoside reverse transcriptase inhibitor (NRTI) for systemic delivery demonstrates successful proof-of-principle and holds significant promise as a candidate for HIV-1 prophylaxis in vulnerable populations," concluded the researchers.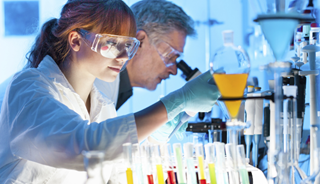 Subdermal delivery of antiretrovirals shows promise in early trials
Findings published this week in Antimicrobial Agents and Chemotherapy report that a novel, subdermal implant delivering potent antiretroviral (ARV) drugs shows extreme promise in stopping the spread of HIV.
Scientists from the Oak Crest Institute of Science, in Pasadena, CA, report that they have developed a matchstick size implant, similar to a contraceptive implant, that successfully delivers a controlled, sustained release of ARV drugs for up to 40 days in dogs with no adverse side effects.
"To our knowledge this is the first implant to be used for this purpose," says Dr. Marc Baum, Senior Faculty and founder of Oak Crest.
Next Article in HIV/AIDS Information Center