May 13, 2015
Lottery tickets may help lower HIV rates
the Clinical Advisor take:
Financial incentives, by way of a lottery, have been credited for helping decrease HIV rates among at-risk patients in Lesotho, according to study findings from researchers at the World Bank.
"We are the first to find a significant reduction in HIV incidence though behavioral intervention," Martina Björkman Nyqvist, of the Stockholm School of Economics in Sweden, told Foreign Policy.
In Lesotho, more than 40% of the population, aged 30 to 34 years, and 23% of the entire adult population are HIV-positive.
To investigate the effect of financial incentives on HIV incidence among high-risk patients, the investigators conducted a parallel group randomized trial with three separate arms: a control arm (n=1,208); a low-value lottery arm (n=859); and high-value lottery arm (n=962).
Participants who tested negative for curable sexually transmitted diseases were automatically entered to win small prizes (control), $50, (low-value lottery arm) or $100 (high-value lottery arm). Although the research was specific to HIV prevention, the lottery was opened to other sexually transmitted infections in an effort to increase safe sex practice among HIV-positive participants.
After two years, there was a 21.4% reduction in HIV infections in the lottery ticket groups compared with control. Prior to being assigned to a treatment arm, the researchers identified study participants that were risk-takers. Among those participants who were considered risk-takers and who were in the lottery arm, HIV infection rates went down nearly 60%.
"As risky sexual behavior, which is responsible for the vast majority of new HIV infections, also involves a risky gamble, lottery programs may better target those at higher risk of getting infected by HIV," noted the researchers.
Despite the reduction, the scientists urged that more trials need to be done, stating "the results apply to Lesotho. To conclude that this has external validity, we would need to replicate the lotteries elsewhere."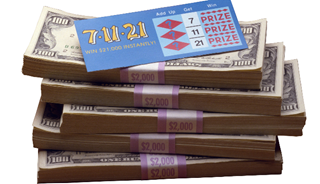 Lottery tickets may help lower HIV rates
Let's say you're a young person, around 30 years old. And you're the kind of person who likes to take risks. So maybe you're taking risks in your sexual relationships. You're not practicing safe sex.
What would make you change your behavior?
That's a question that's long been pondered by public health officials. And now new research from a World Bank-funded team in Lesotho, a tiny country in southern Africa, has produced a surprising answer.
Lottery tickets!
Here's what happened. Researchers wanted to see if they could reach individuals who are prone to taking risks in Lesotho, a country with very high rates of HIV infection. Forty percent of people between the ages of 30 and 34 are HIV-positive.
Next Article in HIV/AIDS Information Center