March 17, 2015
Valacyclovir reduces HIV levels regardless of herpes infection
the Clinical Advisor take:
Valtrex (valacyclovir), a commonly-used herpes drug, can reduce levels of HIV-1 even in patients who do not have herpes, according to a study published in Clinical Infectious Diseases.
Previously, scientists believed that valacyclovir was only effective against HIV when the herpes simplex virus 2 (HSV-2) was present. However, this new study provided results to the contrary.
The study included two double-blind trials that occurred between 2009 and 2012 in the United States and Peru. The trials included 18 HIV-1 positive patients who were negative for HSV-2, had low CD4 cell counts, and were not taking antiretrovirals.
The crossover trial involved two 12-week periods with a 2-week break in between. Participants were randomly assigned to receive the active drug or placebo twice daily in the first period. If the participant received the active drug during the first period, they then received placebo during the second period, and vice versa.
The researchers found that participants had lower HIV viral loads when they were taking valacyclovir compared with placebo. The researchers explained that this indicates that the drug's mechanism of action against HIV is not only through HSV-2.
These results indicate that valacyclovir may be beneficial to a broader range of HIV patients that previously thought. It may also have implications for new HIV drug development based on the molecular structure of valacyclovir, which is generally a well-tolerated drug with few side effects.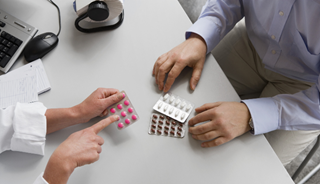 Valacyclovir reduces HIV levels
The results of a new trial show that a common herpes medication can reduce levels of HIV independent of herpes infection.
The trial was carried out by an international group of researchers - including a team from Case Western Reserve University (CWRU) in Cleveland, OH - and is reported in the journal Clinical Infectious Diseases.
The investigators found - contrary to previous studies - that the commonly used herpes drug valacyclovir (known under the brand name Valtrex) reduced levels of HIV-1 even in patients that did not have herpes.
Next Article in HIV/AIDS Information Center