Writer's Guidelines
Share your knowledge and experience with your colleagues by submitting your article to Clinical Advisor. If we accept your submission, we'll be glad to work with you to develop your ideas into compelling narratives.


As for length, that depends on which kind of article you submit. Read the descriptions below to see which is right for you.
CLINICAL FEATURES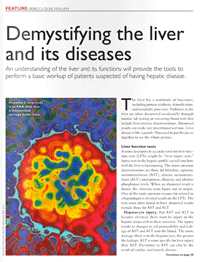 We update our readers with the latest information about conditions seen in everyday practice. Running no more than 2500-3000 words (including references in AMA style), features can be written either as regular narratives or as a series of questions and answers. Topics should be selected with the busy primary-care clinician in mind; specialists should review specialty topics from the primary-care point of view.
Articles should be accompanied by clinical photos. Charts, tables, and algorithms are also encouraged. References are necessary and may include books, clinical guidelines, journal articles, and primary source websites (eg, CDC, FDA, and journal websites). Current references (published within 5 years) are preferred. In addition, include your curriculum vitae, which should list all current titles and affiliations.
Click here to submit your Clinical Feature.
---
CLINICAL CHALLENGES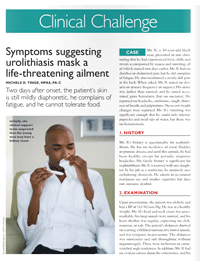 This is our popular department comprising histories of difficult cases. Each case is presented as a step-by-step, chronological account, revealing the author's thought processes along the way. It is divided into sections in this order: the patient presentation; the patient history; the twists and turns eventually leading to a diagnosis; the treatment and outcome; and a discussion of the lessons learned or of the condition in general.
Photographs and clinical images are welcome. The length should be about 1,500 words. Please include your title, affiliations and curriculum vitae.
Click here to submit your Clinical Challenge.
---
DERMATOLOGY CASE STUDIES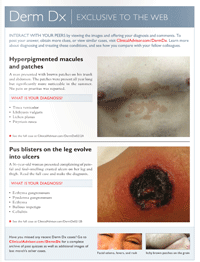 We're looking for photos of actual dermatology cases as teaching tools to help readers identify different dermatological conditions. Each case opens with one to six photos and a 75- to 100-word description of the patient and/or his presentation, without giving away the diagnosis.
This is followed by a 750- to 1,000-word summary that includes a description of the ailment, how the correct diagnosis was achieved, a review of the condition along with a differential diagnosis, and a description of the patient's treatment and outcome. All topics must be approved by the editor.
Click here to submit your Dermatology Case Study.
---
BLOGS & COMMENTARY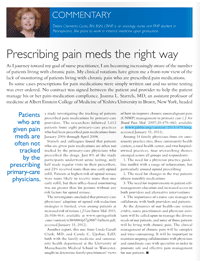 Have something to say? Blogs and commentary are our spots for guest editorials. Take the opportunity to sound off on an issue of importance to your colleagues nationwide.
Support your views with as many facts, statistics, studies and personal anecdotes as possible. Blogs run anywhere from 300-600 words, whereas articles for our print commentary should run about 700 words in length.
Click here to submit your Blog or Commentary.
Contact an Editor
Loading...
Loading...