Uncontrolled hypertension remains a taxing clinical problem. Various surveys reveal that <50% of patients under treatment achieve target BPs (<140/90 mm Hg; 130/80 for those with diabetes or chronic kidney disease). A substantial proportion of patients (exact number uncertain) suffer from "resistant hypertension," i.e., their BP remains elevated despite concurrent use of three agents of different classes.

In its first Scientific Statement to focus on this issue, the American Heart Association (AHA) stresses the need for evaluation that spreads a broad net to identify contributing and secondary causes and treatment options that go beyond the usual antihypertensives.

"There's been growing interest in the subject of resistant hypertension, both clinically and from a research perspective," according to David A. Calhoun, MD, professor of medicine in the vascular biology and hypertension program at The University of Alabama at Birmingham and chair of the committee that produced the document. "General clinicians as well as specialists should recognize that these patients represent a subgroup deserving of special consideration."

Under the rubric of "resistant hypertension," the AHA document includes BP that has been reduced to goal levels with four or more drugs. "Maintaining control with fewer medications would translate to improved quality of life for the patient," and the Statement's protocol might uncover reversible factors to make that possible,
Dr. Calhoun says.
Is it really resistant?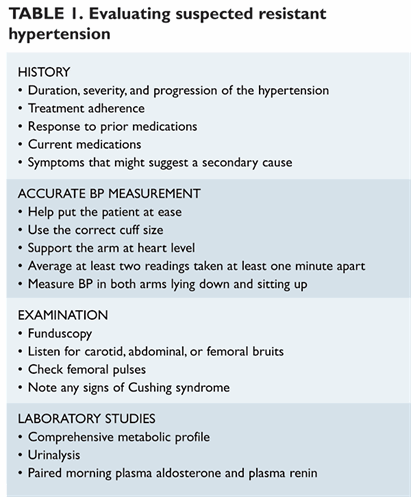 The first priority in evaluating patients with suspected resistant hypertension (Table 1) is to rule out "pseudoresistance," the misleading appearance of inadequate response. This is most often due to problems with technique (e.g., too small a cuff or failure to allow the patient to sit quietly for several minutes prior to testing) or to poor treatment adherence. An estimated 40% of hypertensive patients discontinue medication during their first year.

Pseudoresistance may also represent the "white coat effect." Home monitoring that produces consistently lower readings, indications of overtreatment (such as orthostatic symptoms), and the lack of target organ damage point to this possibility.

To confirm white coat hypertension definitively, the authors recommend 24-hour ambulatory monitoring (mean values should be <135/85).
Contributing factors
"Resistant hypertension is almost always multifactorial,"
Dr. Calhoun says. "And lifestyle factors are almost always contributory." Although these factors have not been evaluated in the resistant population per se, being overweight is generally associated with more severe hypertension and the need for more medications, and weight loss is associated with reductions in BP and drug burden.

Salt restriction has likewise been shown to benefit hypertensive patients, and although its efficacy has not yet been demonstrated in this subgroup, "dietary salt restriction, ideally to sodium <100 mEq/24 hours, should be recommended to all patients with resistant hypertension," assert the authors.

Because excess alcohol is known both to elevate BP and compromise its control, men should consume no more than two standard drinks daily and women no more than one. The BP-lowering effect of physical activity appears modest but real, and the Statement recommends that patients be encouraged to exercise at least 30 minutes most days of the week. There is also evidence to support a diet rich in fruits and vegetables and low in saturated fats.

Medications that interfere with BP control should be withdrawn when possible or reduced to the lowest effective dose. The most frequent offenders are nonnarcotic analgesics, particularly nonsteroidal anti-inflammatory drugs, which have been shown to increase BP modestly (about 5.0 mm Hg) and to blunt the effect of certain antihypertensive agents (diuretics, ACE inhibitors, angiotensin receptor blockers [ARBs], and beta blockers).

Sympathomimetic compounds (e.g., in decongestants and diet pills), oral contraceptives, psychostimulants, and modafinil (Provigil) may also worsen BP control, as may herbal preparations (e.g., ephedra, ma huang) and licorice. Glucocorticoids can increase BP significantly.